Yemen crisis: Is al-Qaeda gaining ground?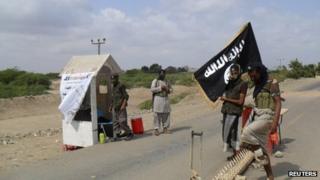 Al-Qaeda in Yemen is on the move.
In the last few days, militants linked to al-Qaeda in the Arabian Peninsula (AQAP) have stormed a town less than 100 miles (160km) south of the capital, Sanaa.
They kidnapped soldiers, looted weapons, bust open the prison and reportedly raised the black flag of their movement over the citadel in Radaa, in the province of al-Baida.
It comes on the back of apparent gains in territory made in the last year by AQAP in the southern province of Abyan where parts of the provincial capital, Zinjibar, have been flattened in fighting between Islamist militants and government troops.
Should the world be worried? After all, Yemen already has so many problems that appear to dwarf this latest development.
Multiple crises
There is a paralysis of power at the top with the outgoing President Ali Abdullah Saleh still negotiating the terms of his departure, his supporters demanding his immunity from prosecution, and his opponents demanding that he and his relatives relinquish power and face trial.
Oil and water reserves are dwindling, there is a simmering Shia rebellion in the north, a separatist movement in the south and a power struggle as rival groups jockey for control in a Yemen without the strongman ruler it has known for 33 years.
"There are so many problems," says Walid al-Rawshan from Yemen's embassy in London. "Al-Qaeda is only one of them".
But counter-terrorism analysts are deeply worried about AQAP's opportunistic success in taking advantage of the ongoing chaos and confusion in Yemen to take ground, seize weapons and win recruits. Its master bombmaker, Ibrahim al-Asiri, is still at large.
One of several Saudi militants to sneak across the border, Asiri is believed to have designed sophisticated bombs concealed in the wearer's underpants, such as the one carried by the Nigerian Umar Farouk Abdulmutallab on a flight bound for Detroit in 2009, and devices disguised in printer ink toner cartridges placed on cargo flights bound for the US.
Still resilient
AQAP is not thought to have more than a few hundred militants in its ranks, of whom only a hardcore fraction are capable of planning and conducting international operations.
It has come under pressure from both Yemeni offensives on the ground and CIA aerial drone strikes, one of which last year controversially killed Anwar al-Awlaki, a media-savvy jihadist who encouraged others to carry out attacks in the West.
And yet it remains resilient.
"AQAP is quickly emerging as the largest franchise in the Al-Qaeda chain," says Sajjan Gohel from the Asia Pacific Foundation.
"It's gaining infrastructure and resources to spread out beyond Yemen. They have been strengthening their hand because of a lack of governance in Yemen. They are a group on the move."