Mozambique and SA's Kruger park hit by deadly floods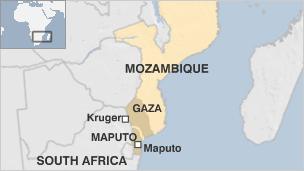 Four people have died and more than 4,000 others are without shelter after torrential rains in Mozambique.
Three days of storms and high winds have hit water and power supplies and destroyed farm animals and cash crops.
The storms have also led neighbouring South Africa to close its famous Kruger National Park, where helicopters have been used to evacuate tourists.
Meteorologists warn a stronger weather system is approaching Mozambique, where flooding in 2000 left 700 people dead.
It was the worst flooding in Mozambique's living memory and half a million people were also made homeless.
The worst affected areas are in the southern Gaza and Maputo provinces, the national relief agency says.
According to Dulce Chilundo of the Disaster Management Institute, tents and food are being sent to those who have lost their homes.
Two of those who died were electrocuted, while the two others were killed when their homes collapsed - one after a tree hit the house, she told the BBC.
The capital, Maputo, is also affected by the heavy rains with drivers having to manoeuvre through water of up to a metre in some areas, the BBC's Jose Tembe reports from the city.
Of the 4,000 people who have lost their homes, more than 1,200 are in the capital, where on Tuesday night at the height of the storm, many people were too scared to spend the night in their houses, he says.
People who have not yet been assisted have resorted to climbing trees or sitting on the roofs of their houses to avoid being swept away by the flood waters, he says.
The floods have also destroyed more than 160 classrooms, four clinics and more than 600 hectares of farmland, the national disaster agency said.
Our reporter says one of Mozambique's main crops, the cashew nut, has also been affected with more than 6,000 cashew tree destroyed.
In some areas of Mozambique the water has begun to recede now that the high winds and rains have dissipated, our correspondent says.
But meteorologist Sergio Buque said another low pressure system was heading towards the country which might bring heavier downpours.
"We expect that the intensity may be greater than this one: We had category one winds of between 80 and 120km/h - the next one, if it develops as the models are showing us, could reach category two, when the winds are stronger," he told the BBC's Network Africa programme.