Hamas leader Khaled Meshaal 'to step down'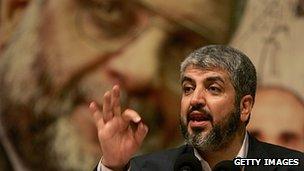 The political leader of the Palestinian Islamist movement Hamas, Khaled Meshaal, does not want to stand for re-election this year, the movement says.
But, in an official statement, Hamas urged Mr Meshaal - who lives in exile in Syria - to reconsider his decision.
The choice of leader should be made by Hamas as a whole, not one man, it said.
It is not clear who might replace Mr Meshaal, although Ismail Haniyeh, the prime minister of Hamas's government in the Gaza Strip, is a likely candidate.
Hamas, which is branded a terrorist organisation by Israel, the EU and US, has governed the coastal territory since 2007.
Many of its political leaders live in Damascus, but some have recently movd their families to other Arab states because of the uprising against President Bashar al-Assad.
Mr Meshaal was appointed a leader of Hamas in 2004, after Israel assassinated the movement's founder, Sheikh Ahmed Yassin, and his successor Abdel Aziz Rantissi.
Hamas's covert structure means that it is not known whether he has authority over the remaining Gaza hierarchy, but from his position in exile in Damascus, he has played an important role.
Unhindered by the travel restrictions imposed by Israel on Hamas leaders in Gaza and the West Bank, Mr Meshaal has represented the group at meetings with foreign governments and other parties throughout the world.
"Political bureau chief Khaled Meshaal has notified Hamas's consultative council that he does not wish to be a candidate for the movement's future leadership," the AFP news agency quoted the statement as saying on Sunday.
But the statement urged Mr Meshaal to leave it to the council to decide whether or not he should leave "on the basis of the higher interests of the movement".
The BBC's Wyre Davies in Jerusalem says that in recent months tensions over future strategy have emerged between the leadership in Gaza and those in exile.
As the movement's allies in the Muslim Brotherhood have gained ground across the region in democratic elections following the Arab Spring, some within Hamas say it too should renounce violence and adopt a more moderate approach.
Our correspondent says Mr Meshaal's decision will please those in Gaza who see themselves as more hardline and committed to the struggle with Israel.
But the outgoing political leader could re-emerge as a unity candidate for the overall Palestinian leadership in the event of Hamas's reconciliation with rival Fatah movement of Palestinian Authority President Mahmoud Abbas, observers say.