Yemen's President Saleh 'leaves country' for treatment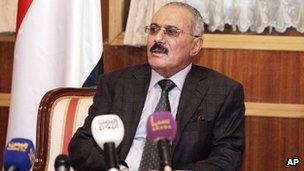 Yemen's veteran President, Ali Abdullah Saleh, has left the country to travel to the US for medical treatment, Yemeni officials say.
In a televised "farewell speech" he asked for forgiveness for "any shortcomings" during his 33-year rule.
His departure came a day after MPs approved a law giving him immunity from prosecution.
The law was part of a Gulf Co-operation Council-brokered deal under which he would relinquish power and leave Yemen.
A spokesman for Mr Saleh, Ahmed al-Soufi, said the president had flown out of the country late on Sunday bound for neighbouring Oman, from where he is expected to continue his journey.
Afterwards, a senior official in Washington said the Yemeni president had been cleared to go to the US for medical treatment, the Associated Press reported.
"God willing, I will leave for treatment in the United States and I will return to Sanaa as head of the General People's Congress party," Mr Saleh earlier told party officials in his speech.
"I ask for forgiveness from all my people, men and women, for any shortcomings during my 33-year-long rule," he said.
One official who was at the early-morning event which brought together senior political, military and security officials, quoted Mr Saleh as saying: "Today, I leave the country in your hands.''
The president's aides say Mr Saleh also announced the promotion of Vice-President Abed Rabbo Mansour Hadi - who is set to replace him as president - to the rank of marshal.
Mr Saleh, 69, was badly injured in an attack on his presidential palace in June after which he spent several months in Saudi Arabia for medical treatment.
The capital Sanaa saw renewed protests on Sunday calling for him to be put on trial.
Demonstrators want Mr Saleh to be brought to justice for offences they say he committed, including the brutal suppression of a year-long uprising that left hundreds dead.
The bill approved on Saturday grants President Saleh full and irrevocable immunity from prosecution for anything he did while in office.
However, it was amended earlier this week to limit the immunity to government and military officials who served alongside Mr Saleh. They could still be prosecuted for actions deemed to be terrorism, or for corruption.
Angry protesters carried banners on Sunday urging MPs to reverse their decision on Mr Saleh's immunity.
"It is our duty... to execute the butcher", chanted protesters in Change Square - the hub of the democracy movement over the past year, AFP news agency said.
Security forces controlled by the president and his family, as well as armed loyalists, have been accused of killing anti-government protesters.
Earlier this month, the UN High Commissioner for Human Rights, Navi Pillay, said that anyone who committed abuses during the mass protests which erupted a year ago should not be allowed to escape justice.