Qatar's towering ambition on show in Doha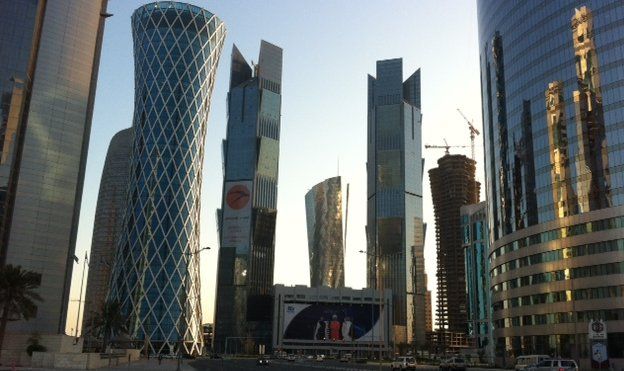 If you seek a monument to Qatari ambition and achievement in Doha, look up.
The capital of the tiny but wealthy Gulf Emirate has transformed itself with dizzying speed from a dreary desert port into a kind of Manhattan with sand.
Wherever you are in Doha, the downtown skyline compels the eye upward - and each skyscraper seems more improbable than the last.
One resembles a towering goblet girdled in what looks like gigantic chain-link fencing fashioned from blue neon.
Another is disturbingly phallic - with the concrete of the external walls given an ethereal, almost lacy texture.
The scale of the buildings - and the speed with which they were built - proclaims the determination of Qatar to build a global profile to match the skyline.
The Palestinian politician Mustafa Barghouti, who watches Qatar from afar, told me Doha used to look very different.
"I remember a time," he explained, "when there were only two high-rise buildings in Qatar.
"Then you could see that there was an astonishing growth and actually an explosion of growth and I think with that kind of economic wealth, Qatar started to be interested in having much more influence, first in the Arab world and then internationally."
This is not merely about some metaphorical aspiration to influence - Qatar has moved with determination to build a kind of power which will be felt first through the Middle East and then in the wider world.
At the foundation of it all lies fabulous wealth.
By some measures, Qatar is the richest nation in the world as determined by the share of GDP per head. Any country that finds itself in that position will perhaps naturally crave the diplomatic clout that comes with it.
So the Emir of Qatar has been a bold and assertive player in the Arab Spring. He sent guns, money and men to help the rebels fighting to unseat Col Muammar Gaddafi in Libya. And he has called for armed Arab intervention to stop Syria from spiralling into bloody chaos.
The very presence in Doha of the Middle East expert Gerd Nonemann, as dean of the local branch of Georgetown University, is testament to the ability of Qatari wealth to attract leading foreign colleges to the Gulf.
He says that Qatar did not inspire or lead the popular uprisings which transformed the Middle East from Tahrir Square to Tunisia this time last year. It just recognised that change was inevitable and was swifter and sharper in its reactions than anyone else.
"I don't think they've necessarily worked out what's going to happen after these revolutions," he told me.
"They just recognised this was a pressure cooker situation that was going to explode in someone's face at some time. They just recognised that it was much better to take the lid off and be seen to act as a facilitator."
The flagship of Qatari influence across the Middle East is the satellite TV channel al-Jazeera, which sees itself as the station which transmitted the anger of the Arab street directly into the palaces where crumbling dictators trembled behind high walls.
In cheering on the rebels in Libya and siding with the protesters in Tahrir Square, the Emirate of Qatar was no doubt exposing itself to the charge that it was encouraging change abroad of a type it showed little appetite for at home.
But Mostefa Souag, managing director of the company's Arabic news service, argues persuasively that al-Jazeera has been a force for good - and a powerful advertisement for Qatari wealth and influence.
"The media is all about soft power," he says. "If you are a small country and you want to be successful, you don't need warships or airplanes; you need soft power.
"Soft power is media, science and culture... I believe that the Emir was aware of this and I believe that's a great vision."
If it's Qatari diplomacy and soft power which has been one of the moving forces in the Arab Spring, it's the wealth that springs from liquefied natural gas which is raising its profile in the wider world.
The Qatar motor show is probably the only one in the world where you find as many Rolls-Royces, Bugattis and Lamborghinis in the car park as you do on the manufacturers' display stands.
And as Europe endures what it hopes will be a short-term crisis, Qatar's powerful sovereign wealth fund is seeking long-term opportunities.
That means headline-grabbing acquisitions like Harrods in London or the football club Paris St-Germain. But it means lots of European real estate which will yield income far into the future too.
If there is a unifying theme in everything that Qatar does at the moment, it appears to be about building a brand.
There's a good chance that many Europeans and Americans had never heard of the Emirate until it won the right to hold the football world cup in 2022.
The average summer temperature here is 45C. But Qataris are confident that when the world has enjoyed a successful tournament in air-conditioned stadiums, it will remember Qatar's wealth and can-do mentality.
In the meantime, there is diplomacy.
Qatar has already built something of a reputation as the country that can talk to anyone - to Hamas and Israel as well as to the US and Iranians.
It's about to put those diplomatic credentials to the test, allowing the Taliban to open an office in Doha in the hope that might lead to talks with the US - which has a huge airbase here - over the future of Afghanistan.
It is an intriguing prospect - and it is smart politics too. If it fails - well, everyone expected it to fail. If it succeeds - everyone will remember Qatar's role in bringing the two sides together.
Either way, it's a safe bet that Qatar will continue doing everything it can to raise its global profile - the challenge for the future is to keep that ability to talk to everyone as it does.