Hamas leader Khaled Meshaal returns for Jordan visit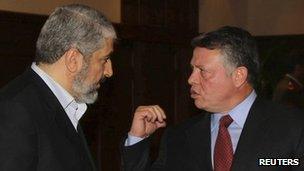 The political leader of Palestinian Islamist movement Hamas is on his first official visit to Jordan since he was expelled from the country in 1999.
Khaled Meshaal had talks with Jordan's King Abdullah soon after his arrival.
In a brief statement, Mr Meshaal made no mention of rumours that he and the Hamas leadership are looking to move from their current base in Syria.
But he expressed a commitment to security and stability in Jordan, saying he was keen to improve ties.
"With this new chapter in relations with Jordan, we hope Jordanian and Palestinian interests will be served," a palace statement quoted him as saying.
He has been accompanied on his visit to Jordan by Qatar's Crown Prince, Sheikh Hamad Bin Tamim al-Thani, who is mediating talks.
Mr Meshaal and other Hamas leaders were expelled from Jordan in 1999 accused of "illicit and harmful" activities.
It came as Amman built closer links with the US and following a 1994 peace treaty with Israel.
The Hamas leader, who has Jordanian citizenship, has since been based in the Syrian capital, Damascus.
The BBC's Dale Gavlak in Amman says Jordan is looking to build bridges with Islamists who have been gaining ground following the uprisings across the Arab world.
Amman is also believed to be trying to raise its profile in efforts to reconcile Hamas with the rival Palestinian faction, Fatah, It has already hosted informal talks to try to get Israel and the Palestinians back to the negotiating table.
Jordan and Hamas have a long history. In September 1997, the then King Hussein of Jordan intervened after two Israeli agents stabbed Khaled Meshaal with an obscure and deadly poison in an Amman street.
King Hussein told the Israelis unless they sent the antidote he would scrap the peace treaty between the two countries. Israel duly did.
But Jordan has downplayed suggestions that Hamas is seeking to set up a base in the kingdom, saying such a step was never raised in Sunday's talks.
One senior Jordanian official said the visit would "break the ice, following years of estrangement" but that Hamas would not be given permission to reopen its offices in the country, the Associated Press news agency reports.
Hamas itself has denied any plan to move its headquarters from Syria due to the unrest there.
"The decision to stay in Damascus on the individual level is a personal decision. The leaders up to this moment have made no decision to leave Damascus," Mahmoud al-Zahar, a Hamas spokesman in the Gaza Strip, told the BBC.
"We are neutral," he said of the situation in Syria. "We are not involved in any confrontation between authority and people. We've kept our policy on all issues in order to keep our relations with all the Arab countries."
Formed in 1987, Hamas is the largest Palestinian militant Islamist organisation.
It is designated a terrorist organisation by Israel, the US and the EU. But supporters consider Hamas a legitimate fighting force defending Palestinians from a brutal military occupation.