Iraqi bloc ends parliament boycott over Hashemi warrant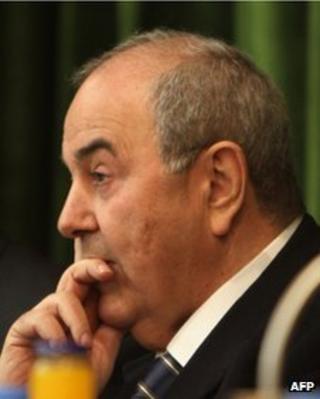 Iraq's opposition Iraqiyya bloc has decided to end a boycott of parliament, a spokeswoman says, paving the way for talks with other political groups.
Iraqiyya - a Sunni Muslim-dominated nationalist bloc - walked out over the issue of an arrest warrant for fugitive Vice-President Tariq al-Hashemi.
Mr Hashemi, who is accused of running death squads during the insurgency, is in hiding in Kurdish northern Iraq.
Iraqiyya will decide later whether to end its boycott of cabinet.
A spokeswoman for the bloc called the return to parliament a "goodwill gesture".
Fractious blocs
Iraqiyya won the largest number of seats in elections in March 2010 but was unable to form a government.
Its decision to return to parliament eases a major political crisis for Shia Muslim Prime Minister Nouri al-Maliki, clearing the way for talks among Iraq's fractious Shia, Kurdish and Sunni blocs.
The announcement came after a meeting of Iraqiyya's senior figures, including former Prime Minister Iyad Allawi.
Mr Hashemi, Iraq's most senior Sunni Arab politician, is accused of funding attacks on government officials during Iraq's bloody insurgency, charges he denies.
The Iraqi government issued the warrant for Mr Hashemi's arrest on 19 December, the day after the last US troops left the country.
Sunni politicians called Mr Maliki a dictator. Several bombings - the worst in months - followed, hitting Shia targets, raising tensions further.
For his part, Mr Hashemi has accused the Iraqi government of being behind the bombings, in which nearly 70 people in Baghdad were killed.
The attack could not have happened on such a scale without government help, he told BBC Persian.