Blame game over Egypt's football clashes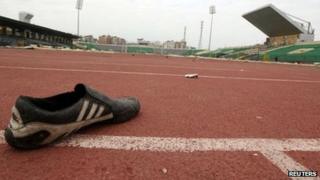 After Egypt's worst-ever football violence, which left over 70 people dead after a match in Port Said, the finger of blame is being pointed in many directions.
Dozens of people were crushed to death, suffocated or fatally stabbed after a pitch invasion by fans of the home-side, al-Masry, which had just beaten Cairo's al-Ahly, Egypt's most successful club.
But did fans instigate the clashes themselves, was there a conspiracy to provoke, was there deliberate negligence by police? Or was the whole thing just a case of badly trained police mishandling football crowd violence.
These are now politically charged questions.
The head of the ruling military council, Field Marshal Hussein Tantawi suggested the aim of the perpetrators was "to destabilise Egypt" and promised to punish them.
However, the Muslim Brotherhood, the Islamist organisation whose party won the biggest bloc in recent parliamentary elections, discerned "invisible planning" behind "this unjustified massacre" in an online statement.
Its senior figure, Essam al-Erian, alleged the ruling military and police were complicit. Their aim, he argued, was to show the need to maintain restrictive emergency laws.
"This tragedy is a result of intentional reluctance by the military and the police," he said.
Many young activists - Islamists and liberals - go along with this. Some see the hands of remnants of the regime of former President Hosni Mubarak, deposed a year ago.
Rumours abound that the authorities sought to hit back at the Ultras, a well-organised network of football fans, toughened by years of confrontations with the police. They have been at the forefront of Egypt's revolutionary protesters in clashes with the police.
"This has nothing to do with football," an al-Ahly fan, Magdy Mohammed Ali told the BBC. "This is all about politics, this is all about some hidden war, so many theories that my head is going to burst".
The Ultras of al-Ahly put out their own statement saying: "They want to punish us and execute us for our participation in the revolution against suppression." They pledged "a new war in defence of our revolution".
Police reviled
The official investigation now under way into Wednesday's events, might never establish the full truth of what happened. Yet already some mistakes are clear.
Television pictures showed dozens of police in black riot gear standing by as hundreds of al-Masry fans armed with knives, metal bars and stones stormed the pitch. Al-Ahly players and supporters ran to escape, heading towards the stands and exits where gates were locked.
Many are criticising the police for allowing weapons into the stadium, not doing more to intervene and not deploying in sufficient numbers. No warnings were given of potential trouble.
"I am completely ashamed of the police in Port Said. The fans of al-Masry, they prepared," says former al-Ahly footballer, Magdy Abdulghany, now president of the Egyptian Professional Players Association. "If the head office of Port Said had told us, we wouldn't have played this game."
Egyptian police - reviled for the part they played in killing hundreds of protesters in last year's uprising and then withdrawing from the streets - have seen their reputation tarnished further by recent rising crime.
There have been armed robberies, kidnappings and petty thefts on a scale not seen before the revolution. Officers have struggled to regain public respect and are criticised for appearing to lack the necessary training to carry out routine duties like crowd control without resorting to bullying and brutal force.
The increased violence at football matches has presented them with a particular problem because of their troubled history with certain fans.
In Mubarak's time, football crowds were tolerated as a place for Egyptians to gather and vent their frustrations. The Ultras - particularly those aligned with al-Ahly and their Cairo rivals, Zamalek - were notorious for run-ins with the police.
When they joined Egypt's protests they were fearless in their approach to street warfare and adapted their chants from the terraces to taunt the security services.
"The revolution was a calamity for you," they shouted outside the Interior Ministry late last year. "Who can we complain to, our police are pimps? You took a beating like you hadn't had for years."
Pressure to reform
Many ordinary Egyptians express frustration at the Ultras and other activists for the disruption and sense of insecurity resulting from their continued demonstrations but also with the ruling generals for failing to restore law and order.
Except for disbanding the hated State Security Investigations Agency, the Supreme Council of the Armed Forces has shied away from the tough challenge of police reform in the one year it has been in power.
As the media continues to show images of those killed and injured in the Port Said violence, for now, the focus is inevitably on holding police commanders, officials and football bosses to account.
Protests in and around Cairo's Tahrir Square will raise the stakes. Yet ultimately policing is a complex issue that needs a carefully thought out political solution.
"The security forces should take the necessary measures to address the lack of security without resorting to any extraordinary measures," is how the former head of the Arab League and presidential hopeful, Amr Musa sums it up.
For the Muslim Brotherhood's Freedom and Justice Party and the other parliamentarians who have just been elected, this crisis could prove to be their first big test.
Making Egyptians feel safe again has just risen to the top of the priority list.