Iran's opposition struggles without detained leaders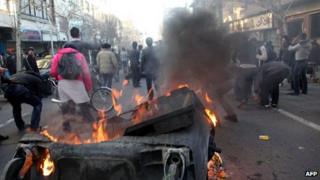 It has been a year since the leaders of Iran's opposition Green Movement were placed under house arrest. BBC's Persian's Mehrzad Kohanrouz looks at how their absence has affected opposition supporters and gauges their mood.
It was February 2011, and the Arab world was in turmoil.
As the regimes first in Tunisia and then Egypt fell, Iranian opposition leaders saw a chance to revive their own short-lived "Tehran spring".
Two years earlier, Iranian security forces had crushed protests which erupted after the disputed presidential election.
The two candidates who lost out to President Mahmoud Ahmadinejad in the controversial poll decided it was time to make a move.
Mir Hossein Mousavi, a former prime minister, and Mehdi Karroubi, a former speaker of parliament and senior cleric, applied for official permission to hold a rally in support of the Arab protesters.
Their request was refused, but on 14 February thousands of people across Iran defied the authorities and took to the streets.
Dariush in Tehran was one of them.
"The security forces managed to block all the streets leading to Azadi (Liberation) Square," he recalled in a post on the popular opposition website Balatarin. "But the protesters scattered across the city and the security forces weren't able to contain them."
House arrest
The security forces also turned their attention to Mr Mousavi and Mr Karroubi.
Both men had been under intense pressure from the authorities since 2009, when they and millions of Iranians demanded another presidential election at mass protests that drew the largest crowds since the Islamic Revolution in 1979.
After security forces crushed the Green Movement - named after its signature colour - they rarely appeared in public although both kept in regular contact with their supporters via their websites.
But just before the 14 February protest, the authorities moved to silence them completely, and confined them to house arrest in Tehran.
They are still being held one year on.
They have not been able to speak to anyone outside their immediate families, their precise whereabouts are unclear, and nothing is known about the conditions in which they are being held.
'Failures'
Last month, the deputy speaker of parliament, Mohammad Reza Bahonar, revealed that it was actually the country's Supreme Leader, Ayatollah Ali Khamenei, who had sanctioned their detention.
His comments provoked outrage on Iranian opposition websites.
"What kind of a dictatorship is this?" a web user called Arnazin wrote in one online chatroom. "This means that the [Supreme] Leader himself ordered their incarceration. How could the judiciary give in to such an order? It's ridiculous!"
But what difference has the removal of its two main leaders had to Iran's opposition movement?
Judging by the people who have contacted the BBC's Persian service recently, opinions are divided.
"Why should I call them leaders?" Pouria from Tehran asked in a telephone call to the interactive programme, Nowbat-e Shoma (Your Turn).
"They should have kept the protest momentum as Aung San Suu Kyi, the pro-democracy movement leader, did in Burma."
"Mousavi and Karroubi... failed to keep up with people's demands," Seyyed from Khomein, in central Iran, wrote in an email.
"They put protesters off by calling on them to return to the political ideals of the Islamic revolution and the 'golden era' of Ayatollah Ruhollah Khomeini."
Leila Behzad agreed, saying: "Leaders should be ahead of the crowd."
"As the protesters were shouting 'Independence, Freedom, Iranian Republic', Mousavi and Karroubi were still urging us to return to the values enshrined by Ayatollah Khomeini."
But Nima Saeedi from the northern city of Karaj emailed BBC Persian to say that the unrest of 2009 and the subsequent crackdown had shown people that they did have the power to challenge the authorities.
"The more hardship we go through, the more we realise just how much pressure we managed to inflict on the establishment," he wrote.
"The Green Movement is alive and successful because it moved beyond the Islamic Republic's ideology," wrote Kaveh. "Mousavi and Karroubi helped spark the movement. Now it's up to us to carry on their legacy and take on the regime."
'One goal'
Mojtaba Vahedi, a senior aide to Mr Karroubi who now lives in the US, defended the two leaders' record and said their biggest achievement had been to unite the opposition.
'Without [the Green] Movement it would have been impossible to rally opposition groups behind one set of principles," he said. "Now they are all now sharing one goal."
Mr Karroubi's wife, Fatemeh, who had been detained with him, was released last May for medical treatment. She has been allowed to visit her husband occasionally since then, and sometimes conveys messages from him to his supporters.
In an interview with an opposition website on Saturday, Mrs Karroubi said her husband was "more determined than ever".
She quoted him as saying: "The road ahead will be long and dangerous. But the people have legitimate and deep-rooted demands and as society reaches political maturity the future is looking bright."
It is not clear how many ordinary opposition supporters share Mr Karroubi's optimism.
On 2 March, Iranians will be electing a new parliament. Some opposition figures have called on people to boycott the poll. All eyes will be on the turnout.