Nik Wallenda to tightrope walk over Niagara Falls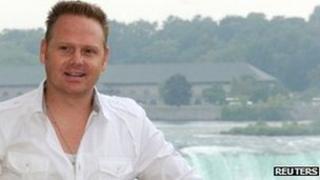 An American acrobat is to become the first person in more than a century to walk a tightrope over Niagara Falls after being granted rare permission.
Nik Wallenda will carry out the stunt on the US-Canadian border this summer.
It has long been illegal to carry out such stunts at the Falls because so many people have died trying.
Canadian officials had originally blocked his proposal but relented, saying it would pay tribute to the history of daredevil acts at the site.
Mr Wallenda, 33, was born into a family of circus performers and has been tightrope-walking since he was two-years-old.
He told the BBC he had dreamed of walking across the Falls since he was six and that his mother had made him special shoes with suede soles for the occasion.
"My dream is to walk into the mist, disappear, and walk out the other end," he said.
"Contrary to popular belief, it's very peaceful when I'm on the wire. It's just me and the wire. It's relaxing."
'Rich history'
Mr Wallenda will not be wearing a harness and his rope will be strung nearly 70m directly above the falls - higher than many of those who have tried the crossing in the past.
Both the Canadian and US authorities have tried to deter people from taking the risk because of the high number of fatalities and accidents related to stunts carried out at the gorge.
But Mr Wallenda had already secured US support, after New York Governor Andrew Cuomo signed a bill last September giving him one year to carry out the feat.
On Wednesday, Canada's Niagara Parks Commission reversed an earlier decision and voted unanimously to allow the stunt at some point this summer, subject to regulations.
However, it also passed a motion saying such an attempt could only be allowed once every 20 years.
Commission chairwoman Janice Thompson said it would be a unique event which recognised the history of the Falls.
She told the BBC: "It's tightly controlled; we're saying it's 'once in a generation'.
"Why we're actually doing it is to pay tribute to the rich history, the long-ago history, of tightrope-walking and daredevils at Niagara Falls."
Mr Wallenda had suggested the stunt could generate more than $100m (£157m) revenue through additional tourism and live television broadcast rights.
He said if he succeeds, he will be the first person to ever cross directly over the falls.
He hopes to follow in the footsteps of Jean Francois Gravelet - known as Charles Blondin - who was the first person to to make the tightrope walk on 30 June 1859.
Blondin went on to tackle the Falls on several occasions, with his attempts getting more and more challenging each time.
Once he crossed over on a bicycle, another time he was blindfolded, while one attempt involved him cooking an omelette in the middle of his walk.