UK activist lifting the lid on secret Syria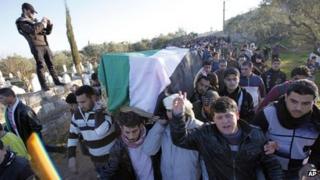 For most of the past year in Syria, the outside world has been dependent on activists to provide the images, information and casualty figures they say show what is happening. Some sources have become central to the way the conflict is being reported - none more so than the UK-based Syrian Observatory for Human Rights and the man behind it, reports the BBC's Sebastian Usher.
Behind the drawn blinds of a first-floor study in a small semi-detached house in Coventry, a Syrian shop owner is telling the world what's happening in his country.
As Rami Abdul Rahman - founder of the Syrian Observatory for Human Rights - he has become a kind of recording angel of death in Syria.
He gets his information from more than 200 sources in every Syrian town and province linked through Skype so the authorities cannot trace them.
His tools are a couple of laptops and a handful of mobiles.
"All the news coming out of Syria to the rest of the world has come from the Syrian Observatory until now," he says.
"And the Syrian regime hasn't said that Rami is lying - it's said that Rami works for British intelligence, that he has a big office in London.
"One time, it's said that I'm from the Muslim Brotherhood. Another time he's working for the Americans. Others say I'm with the Alawites, even the Syrian regime.
"How can I be all those things at the same time? It tells us that we are working in the right way."
Ubiquity
In the two hours I spend with him, he goes live on air with a host of Arabic-language broadcasters, including the BBC and al-Jazeera.
He fields calls on casualties from the Financial Times, Bloomberg, France 24 and many others.
Such ubiquity has turned him into a powerful figure, making him both friends and enemies.
He shows me a video posted on YouTube that shows Syrian protesters holding up a banner with his name on it, thanking him.
Then he shows me another video - this time from Syrian TV - denouncing him and giving his real name, Osama.
But attacks have come from other activists, too - reflecting larger splits within the opposition.
Some have wanted to use his authority to push their agenda.
The biggest confrontation came - Mr Abdul Rahman says - when they tried to get him to demand a no-fly zone.
He says this put his life and the lives of his family both inside and outside Syria in danger.
He was also criticised for recording the deaths of members of the security forces as well as activists and civilians.
He says he has to do this to give the full picture of what is happening and to avoid charges of bias.
Power struggle
A bitter feud erupted between Mr Abdul Rahman and one particular Syrian activist in London, Dr Mousab Azzawi.
When I meet Dr Azzawi at his home, his accusations come thick and fast.
He says Mr Abdul Rahman is trying to make a name for himself and secure a ministerial position in any post-Assad government - charges that Mr Abdul Rahman vehemently denies.
He makes darker hints about possible links to the Mukhabarat - the feared security services in Syria. Again, Mr Abdul Rahman rejects any such suggestion.
Dr Azzawi set up an alternative Syrian Observatory site at the end of last year.
He gathered several other Syrian activists and issued a statement to journalists, telling them to drop Mr Abdul Rahman.
The statement said that even the name, Rami Abdul Rahman, had been shared by activists and was not exclusive to any one person.
Mr Abdul Rahman responded by contacting journalists himself to tell them that only he was authorised to speak for the group.
Several human rights organisations that have worked with Mr Abdul Rahman for many years have strongly backed him.
The row played into the hands of Syrian government supporters, who said it showed just how untrustworthy the activists were.
It also fuelled doubts over the veracity of reports from Syrian activists by commentators like the academic, As'ad AbuKhalil, on his widely read Angry Arab News Service website.
'Extraordinary media behaviour'
Some journalists have also raised concerns that the world's media have relied too heavily on just a handful of activist sources like the Syrian Observatory.
Patrick Cockburn of the Independent newspaper has reported for decades from across the Middle East and says there are dangers in this trend of trusting unverified online sources.
"It's been really rather extraordinary behaviour by media organisations with established reputations," he says.
"Information - interesting and important though it is - is treated as though it was completely objective reporting.
"I think this kind of reporting will eventually lead to mistakes by governments, which will respond without realising what the real situation is on the ground."
Many activists themselves criticise the media for not examining all the sources on what is happening in Syria and cross-checking between them.
One activist, Mahmoud Ali Hamad, told me that he did his research by first studying all the latest videos of violence and protests online before beginning to look at the casualty figures given by groups like the Syrian Observatory.
Dr Azzawi makes a similar point, saying he is not a journalist and should not be doing their job for them.
"Don't give us a bigger size than what we are," he says. "We are simple people.
"In an interview with al-Jazeera, they tried to say that we are the heroes of the revolution. I said, 'No - our interest is to help you to get some kind of camera into the street, but then it's your responsibility to verify what we say.'"
Personal price
As public pressure has grown on governments to do something over the recent intense Syrian army offensive on the central city of Homs, these concerns are only becoming sharper.
One of the most memorable recent images has been of the activist Danny Abdul Dayem under siege in Homs, filming himself next to a dead child and trying to shame the United Nations into action.
Such courage and commitment is unquestionable, but there is clearly nothing objective about the message.
As for Rami Abdul Rahman, even in his rented house in Coventry, he has paid a personal price for his work.
His brother, who lives nearby, no longer speaks to him after being arrested on a trip back to Syria last year.
And his mother, who still lives in Syria, rejects his reports, sticking instead with the state media that condemn the protesters as terrorists.
But Mr Abdul Rahman says that whatever forces are stacked against him, there is no way that he can stop now.
"I don't know my day from my night. I can't switch off my phone because people are being killed in Syria. If I switch off my phone, it means I'm being selfish.
"This time is not for me now. It's hard for my daughter, hard for my wife. But in the end we need to fight for democracy. Democracy is not easy."