Profile: Global campaign group Avaaz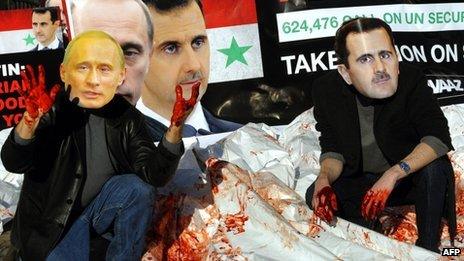 Avaaz - meaning "voice" in Farsi as well as several other European, Middle Eastern and Asian languages - describes itself as "a global web movement to bring people-powered politics to decision-making everywhere".
According to the group's website, it was launched in 2007 with a mission to "organise citizens of all nations to close the gap between the world we have and the world most people everywhere want".
It campaigns in 15 languages and is served by a small core team of 52 full-time staff worldwide and thousands of volunteers in all 192 UN member states, including Iran and China, where its website is illegal.
"Our model of internet organising allows thousands of individual efforts, however small, to be rapidly combined into a powerful collective force," it says.
Avaaz's founder and executive director, Ricken Patel,told the Times newspaper earlier this month: "There are two types of fatalism. The belief the world can't change, and the belief you can't play a role in changing it."
"If, in a few hundred words, you produce a convincing counter-argument, people respond."
Prior to setting up Avaaz, Mr Patel, a 34-year-old Oxford and Harvard-educated Canadian, worked in war-torn countries such as Sierra Leone, Liberia, Sudan and Afghanistan, and worked with the International Crisis Group, and US political action group, MoveOn.
Avaaz's overall priorities are set through polls of its 13 million members, while campaign ideas are polled and tested weekly through 10,000-member samples, before being presented to the wider community.
Avaaz says it is independent and accountable because since 2009 it has been wholly member-funded. A start-up fund, raised from various foundations reportedly on the understanding that they had no influence, previously covered Avaaz's staff salaries, office rental and campaign costs.
The group employs a wide variety of tactics in its campaigns, including collating petitions with hundreds of thousands, if not millions, of signatures; organising demonstrations and phone-ins; fundraising, and paying for advertising.
It says its successes range from helping to uphold the EU ban on GM crops to helping to circumventing the Burmese government's ban on international aid after Cyclone Nargis by depositing $2m (£1.25m) for the relief operation organised by monks in the account of a local businessman.
After uprisings erupted in the Arab world last year, Avaaz used donations totalling $1.5m from almost 30,000 members to provide pro-democracy movements with "high-tech phones and satellite internet modems, connect them to the world's top media outlets, and provide communications advice", its website says.
"We've seen the power of this engagement - where our support to activists has created global media cycles with footage and eyewitness accounts that our team helps distribute to CNN, BBC, al-Jazeera and others."
Avaaz also claims to have delivered more than $1.8m of medical equipment to the worst affected areas of Syria to keep underground hospitals going, set up a network of more than 400 citizen journalists across the country, and smuggled in foreign journalists.
The group has also played an important role in collecting information on the scale of the crackdown on dissent, constantly updating its figures on the nationwide death toll, as well as on detained protesters.
"Avaaz's research adheres to a strict verification process and is used by the UN for its own death toll estimates," a recent statement said. "Each death is confirmed by three independent sources, including a family member of the deceased and the imam who performed the funeral rites."
On 28 February,the group announcedit had co-ordinated an operation by Syrian activists to help evacuate the British photographer Paul Conroy from the city of Homs which is being bombarded by government troops, and deliver aid.
Mr Conroy was wounded six days earlier when shells hit a makeshift media centre in the opposition-held Baba Amr district. The French reporter Edith Bouvier was also badly hurt, while the American journalist Marie Colvin and the French photographer Remi Ochlik were killed.
"Avaaz responded to requests from the journalists, their families and colleagues to attempt to evacuate them and worked with over 35 heroic Syrian activists each night who volunteered to help in the rescue," it said.
Avaaz said that the activists had also evacuated 40 seriously-wounded people from Baba Amr and brought in medical supplies.
"Tragically this operation led to a number of fatalities as the Syrian army targeted those escaping, during their bombardment of the city on Sunday evening. Thirteen activists were killed in the operation."
"Three activists were killed by Syrian targeted shelling as they tried to assist the journalists through Baba Amr," it added. "While Paul Conroy successfully escaped the city, ten activists died bringing relief supplies into Baba Amr."
Mr Patel told the BBC: "It was really a staggering act of bravery on the part of these activists who have supported these journalists to get out."
He said seven activists were detained by security forces and then "shot in the back of the head with their hands tied behind their backs".
"They were not armed; they were not able to fight back. The group that had done this has been unarmed volunteer activists," he added.
Mr Patel also criticised the media for reporting that Mr Conroy had escaped Homs and reached neighbouring Lebanon before Ms Bouvier and two other journalists who had been with them, Javier Espinosa and William Daniels, had also done so.
Related Internet Links
The BBC is not responsible for the content of external sites.