Egypt candidate: Veteran diplomat, Amr Moussa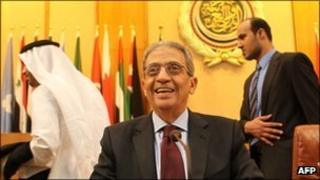 Amr Moussa, a former Egyptian foreign minister, was head of the Arab League until he stepped down in mid-2011 to run as a presidential candidate.
He told the BBC that Egypt had been "left in total disarray" and his goal was to rebuild the country on the principles of "democracy, reform and development". He says strong economic policies are needed that "deal with the poor before the rich".
Mr Moussa enjoys considerable popularity among Egyptians and is widely seen as a front-runner for the job.
In his previous posts, his outspoken criticism of Israeli policies towards the Palestinians often struck a chord with national sentiment.
In 2000, he even inspired a controversial song by the pop star Shaaban Abdul Rahim with the lyrics "I hate Israel but I love Amr Musa".
When the former President Hosni Mubarak removed Mr Moussa from his position at the foreign ministry the next year, appointing him secretary general of the Arab League instead, the speculation was that Mr Mubarak considered him a potential rival and was sidelining him.
Yet he remained in the public spotlight at the pan-Arab body and his popularity grew.
Secular heavyweight
Some analysts suggest that as a secular presidential candidate with an international profile, Mr Moussa could be an effective counterweight to the influence of Islamists who dominate the new parliament.
He did push for presidential elections to take place before parliamentary ones so that alternative new parties would have more time to establish themselves.
However when that did not happen he expressed willingness to work with the powerful Muslim Brotherhood which controls most seats.
He says the results of the vote must be accepted as "democracy is democracy".
During last year's uprising, Mr Moussa showed his support for pro-democracy protesters as a member of the so-called Committee of Wise Men which acted as their go-betweens with the former government, pressing for a transfer of power.
On 4 February 2011 - a week before Mr Mubarak stepped down - he joined the crowds in Cairo's Tahrir Square.
Yet at the age of 75, Mr Moussa has not always found himself the natural champion of young liberal activists.
Some have staged protests at his campaign rallies accusing him of being tainted by his association with the former government.
He is criticised for expressing sympathy for his former boss and even suggesting at one stage that he should not go on trial.
For his part, Mr Moussa says that he served Egypt throughout his career and seeks to serve it again as president.
Because of his age he has said that he seeks to hold the office for just one term.
Veteran diplomat
Mr Moussa, who was born in 1936, began his diplomatic career after completing a law degree at Cairo University in 1957.
He worked at several Egyptian overseas missions and at the United Nations before his stint as Foreign Minister which lasted for a decade from 1991.
After he was moved to the Arab League, Mr Moussa spoke strongly against the 2003 US-led invasion of Iraq. In a BBC interview he asked: ''Do you think that democracy will come to Iraq on a B-52?''
He also criticised Western countries for not recognising the results of the 2006 Palestinian elections won by Hamas and called for Israel to end its blockade of Gaza.
While ordinary Arabs praised his performance, he was not universally liked among his colleagues at the League. He was accused of showing favouritism and not doing enough to unite members.
The last major challenge of his tenure involved securing Arab support for Nato's bombing campaign in Libya. This led to a UN Security Council resolution mandating the use of force to protect Libyan civilians.
However Mr Moussa admitted to having second thoughts about the decision after civilian casualties mounted.
Presidential platform
If elected as president, Amr Moussa has acknowledged he will have to steer Egypt through some tough times.
He told the BBC that 50% of people were now living below or around the poverty line and that their needs must be put first. "This was one of the mistakes of the past economic policies," he said.
He also said the country should not pursue an "adventurous foreign policy".
Despite his past complaints about Israel he has dismissed suggestions that the peace treaty with Egypt should be scrapped.
He continues to support the 2002 Arab peace initiative which would see regional normalisation of relations with Israel in return for a two-state solution to its conflict with the Palestinians.
Mr Moussa suggests that Egypt has a central role to play in promoting democratic change in the Middle East and that this can be achieved through diplomacy and by example.