Yemen attacks: More than 100 killed in al-Qaeda clashes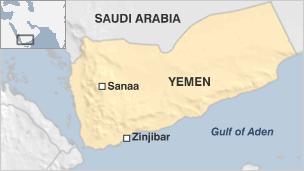 The number of people killed in fighting between soldiers and militants linked to al-Qaeda in Yemen on Sunday has risen to more than 100, officials say.
Dozens of soldiers were killed in the battle at an army post in southern Yemen and 50 were taken prisoner.
At least 20 of the attackers are said to have died.
A BBC correspondent says although the militants are said to be from al-Qaeda, it is thought they could have links with ex-president Ali Abdullah Saleh.
Mr Saleh formally relinquished power a week ago.
The clashes took place in the southern province of Abyan, west of the provincial capital and militant-held town of Zinjibar.
The fighting flared following twin suicide bombings targeting military posts in Zinjibar earlier on Sunday.
According to one report quoting an army source, the fighters took some of the army's heavy weapons before pulling back to Zinjibar, and were assisted, he alleged, by army leaders who had served under the former president.
Islamists began taking control of parts of the province of Abyan last year and security forces have been battling them since.
There has been a spate of attacks against security forces since President Abdrabuh Mansur Hadi took over from Mr Saleh and was sworn in in late February.