Iran overturns death sentence for 'CIA spy' Hekmati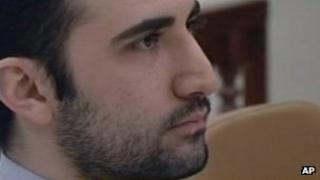 Iran's Supreme Court has overturned the death sentence given to an Iranian-American national accused of spying for the CIA and ordered a retrial.
Judges had found the verdict against Amir Mirzai Hekmati was "not complete" and referred his case to an affiliate court, a judiciary spokesman said.
In January, Mr Hekmati was convicted of "co-operating with a hostile nation, membership of the CIA and trying to implicate Iran in terrorism".
The US has urged Iran to release him.
It has repeatedly insisted the allegations that Mr Hekmati either worked for, or was sent to Iran by the CIA, are "simply untrue".
Mr Hekmati's family, who live in Arizona, have also said the charges are fabricated and that he was in Iran last year to visit his grandmothers.
'Confession'
Iranian prosecutors said last year that, as a former US marine, Mr Hekmati had received training at US bases in neighbouring Afghanistan and Iraq before being sent to Iran for his alleged intelligence-gathering mission.
They claimed his cover was blown even before he had arrived in the country, because he had been spotted by Iranian agents at the US-run Bagram military air base, north of the Afghan capital, Kabul.
In December, the 28 year old was shown on Iranian television allegedly confessing to being part of a plot to infiltrate Iran's intelligence services.
State media also said he had admitted at his trial to having had links to the CIA, but also that he had stated he never intended to harm Iran.
But on Monday, judiciary spokesman Gholamhossein Mohseni-Ejei told a news conference in Tehran that the Supreme Court had dismissed the death sentence handed down by a Revolutionary Court in the capital.
"There were objections to the verdict by the Supreme Court," he was quoted as saying by the Isna news agency. "The Supreme Court found shortcomings in the case and sent it for review by an affiliate court."
Mr Mohseni-Ejei did not give any further details.
Last month, Mr Hekmati's mother visited him in prison and met Iranian officials. Some saw it as a sign Iran might show leniency in his case.