Israel allows first Gaza-West Bank exports in five years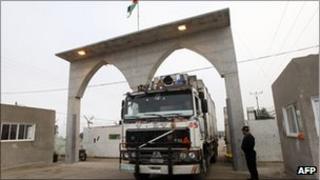 Israel says it has allowed the export of goods from Gaza to the West Bank for the first time in five years.
The military has authorised the transfer of at least 13 lorry loads of date bars in the next few days.
However it stressed this was a "one-off pilot project" and did not mean an end to the ban on exports from Gaza to markets in Israel and the West Bank, which was imposed in June 2007.
The World Food Programme asked for the move to feed Palestinian children.
Israel first imposed a blockade on Gaza in June 2006 after Palestinian militants captured one of its soldiers, Gilad Shalit, in a cross-border raid.
It was tightened a year later after the Islamist group, Hamas, took over the Palestinian territory by force.
Gesture
"After looking at all the security considerations we decided to authorise this specific project. It's not a new policy regarding exports from Gaza to the West Bank," said Guy Inbar, a spokesman for COGAT, the Israeli military division responsible for coordinating access to and from Gaza.
"It's a gesture after a request from the World Food Programme and the Palestinian Authority. We will be monitoring to see what happens."
The first lorries carrying the snack bars left Gaza and took them to the West Bank via Israel on Monday.
Gisha, which campaigns for Palestinian freedom of movement and trade, said it expected a total of 19 lorry loads to transfer the goods.
"This is an important step toward fulfilling the Israeli government's commitment to allow economic development for Palestinians living in Gaza," said Gisha's director, Sari Bashi.
"If marketing goods to the West Bank can be approved once, why can't it be allowed on a routine basis?"
Economic collapse
Before mid-2007, 85% of Gaza's exports were being sold to Israel and the West Bank. Analysts say the trade ban has contributed to the collapse of its economy.
Although the blockade has been eased somewhat, it still remains in place.
The border between Egypt and Gaza is open to limited numbers of people.
According to Gisha, since the start of this year, Israel has allowed an average of two lorries of goods to leave Gaza each day, compared with 86 lorry loads per day in the first half of 2007.
Until this week, all exports were limited to markets abroad.