Egypt murder charges over Port Said football riot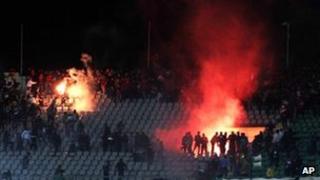 Egypt's chief prosecutor has charged 75 people with murder or negligence over a riot which followed a football match.
At least 74 people were killed when rival fans clashed after a game in Port Said between top-tier clubs al-Masry and al-Ahly on 1 February.
Nine police officers are among those facing charges, say reports.
Rumours that the police had failed to intervene sparked days of clashes across the country in which a further 16 people died.
Port Said's former security chief, Maj Gen Issam Samak, is one of the officers charged over the deaths, although it was not immediately clear what he had been charged with.
Maj Gen Samak was suspended following the riot, which was one of the deadliest in footballing history.
Prosecutors said two minors facing charges would be referred to a children's court, AFP news agency reported.
Old rivals
The Port Said home team al-Masry won the game 3-1, but as the match ended their fans invaded the pitch, attacking al-Ahly players and fans.
The two teams are long-standing rivals whose games have often been tense and required a large security presence.
But there were claims that fans had been allowed to take knives and other weapons into the arena.
In the days following the riot, large protests blaming the military government for the deaths were held outside the interior ministry in the capital, Cairo.
The BBC's John Leyne in Cairo says many Egyptians believe the authorities either orchestrated the violence or allowed it to continue because of the al-Ahly fans' support of the revolution which overthrew Hosni Mubarak last year.
Al-Ahly fans have been calling for those responsible for the deaths to be held to account.
The football league season was cancelled in the wake of the unrest and has not yet restarted.
Our correspondent says discussions are under way for a limited resumption, with matches to be played behind closed doors.