Rafik Hariri tribunal judge rejects new charge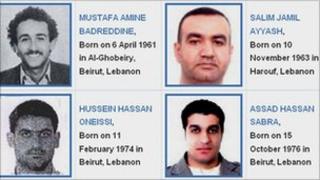 A judge at the UN-backed tribunal investigating the killing of former Lebanese PM Rafik Hariri has refused to expand the charges against the accused.
Prosecutors at the Special Tribunal for Lebanon (STL) had proposed adding the count of "criminal association", an offence under the Lebanese penal code.
But the STL said a pre-trial judge had rejected it on "procedural grounds".
Arrest warrants have been issued for four members of the Shia Islamist group Hezbollah, but they remain at large.
Mustafa Badreddine, Salim Ayyash, Hussein Oneissi and Assad Sabra were charged in June on nine counts, including the murder of Rafik Hariri and 21 others who died when a suicide bomber drove a van packed with 2,500kg (5,510lb) of explosives into his convoy in Beirut in 2005.
Last month, the STL's trial chamber said it would try them in absentia after "all reasonable steps" had been taken to arrest them.
Hezbollah leader Hassan Nasrallah has rejected "each and every void accusation" and said no power would be able to arrest the men.
On Friday, a statement published by the STL said the prosecution had filed a confidential request on 8 February seeking to add a count of "criminal association" to the indictment.
The pre-trial judge then asked the STL's appeals chamber to define "criminal association".
But before the chamber had issued a definition, the pre-trial judge rejected the prosecution's request in a confidential decision on Tuesday. The rejection was based on procedural grounds, the STL said.
"The president of the STL has now asked the parties and the defence office to make submissions on whether the appeals chamber should continue with the process of defining 'criminal association'," it added.