Iraqi Shias protest against government corruption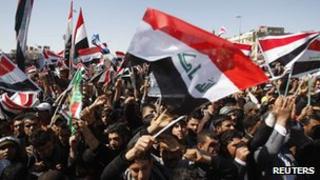 Tens of thousands of Iraqi Shias have marked the ninth anniversary of the US-led invasion which overthrew Saddam Hussein with a large rally in the southern city of Basra.
Supporters of the Shia cleric Moqtada al-Sadr used the protest to demand better living conditions.
They shouted slogans criticising government corruption and held electric cables to highlight power cuts.
Meanwhile, at least three people were killed in bomb attacks east of Baghdad.
Dozens others were injured in the bombings in Diyala province, Iraqi officials said.
Uneasy relationship
During the rally in Basra, followers of Mr Sadr said the Iraqi government must provide better-paid jobs, improve public services and tackle corruption.
"We have suffered a lot in this rich country," protester Hassan Saleh was quoted as saying by the Associated Press news agency.
"I work as a construction worker because I can't find a government job," said Saleh, a graduate from Iraq's technology institute.
The Sadr movement has several ministers in the government and about 40 MPs.
But correspondents say they have an uneasy relationship with Prime Minister Nouri Maliki.
Most of the slogans criticised government corruption and the lack of services for ordinary Iraqis, despite an increase in oil production.
Power cuts are a regular feature of life in Iraq, during both cold winters and hot summers.
Protesters also held portraits of Mr Sadr, who is in self-imposed exile in Iran. He has recently been reasserting himself in Iraqi politics.
The BBC's Rami Ruhayem in Baghdad says the cleric's movement has built its identity around fighting the American army and defending the poor.
With the Americans gone the poor have become its priority, our correspondent says.
The movement has several ministers in government and seeks to strike a balance between keeping its share of power and steering clear of any blame for the state of the nation, he adds.