Death of Pope Shenouda leaves vacuum for Egypt's Copts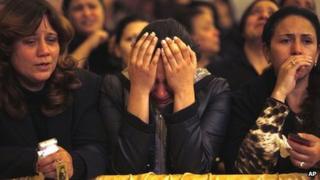 The death of Pope Shenouda III, the spiritual leader of Egypt's Coptic Christians, has left many of them fearful about what the future may bring.
"He left us in such a crucial time," Michael Boles, an engineer from Cairo, told BBC Arabic.
"I just hope that the successor, whoever he is, has the same kind of wisdom this man had," a tearful Mr Boles added.
Pope Shenouda died on Saturday aged 88, after a long battle with liver and kidney problems.
He had led the church of nearly 12 million Coptic Christians - making up about 10% of the country's population - since 1971.
Turbulent time
The pope's death comes at a time when the Christian minority feels more vulnerable than it has ever done before.
The past few years have seen a series of attacks on the community.
The most deadly was a suicide bombing targeting a church in Alexandria on New Year's Eve 2011, only days before the eruption of the uprising against former President Hosni Mubarak on 25 January.
Even after the revolution, attacks on Christians and rising sectarian tension have added to the minority's feeling of being under siege.
Many Copts are concerned about the growing power of the Islamists, who were banned under Mubarak.
The Muslim Brotherhood's Freedom and Justice party and the more radical Salafist Al-Nour party made sweeping gains in the first post-Mubarak parliamentary elections, together winning about 70% of seats.
Many fear losing Pope Shenouda at such turbulent time could prove costly.
"We lost a great icon. His presence was crucial in repelling many threats against our country," MP and prominent Christian politician Amin Eskandar told state TV on Saturday night.
"His patriotism and wise approach to any issue were very helpful."
Seen as the guardian, Pope Shenouda was the first leader in the history of Egypt's Orthodox Church to gain such power and influence, and not only within his community.
Since he became the 117th pope of Alexandria and patriarch of the See of St Mark, Pope Shenouda had fought for the rights of Christians, especially when it came to laws governing personal morality.
Conservative
But some Copts objected to the strict Christian doctrine espoused by the pope, especially his support for a ban on divorce except in cases of adultery.
Pope Shenouda is also seen as having politicised the church to a much greater degree than any of his predecessors did.
He criticised former President Anwar al-Sadat for his "religiously-based" policies, and voiced opposition to the Camp David peace agreement with Israel.
The authorities responded by banishing him to a monastery in the Wadi El Natrun, a desert area to the west of Cairo.
Pope Shenouda is also remembered for his firm rejection of normalising diplomatic ties with Israel, as well as for banning his church's followers from going on pilgrimage to Jerusalem.
"We will enter Jerusalem together with our Muslim Palestinian brothers," he repeatedly said.
Others say the pope failed to embrace change and reform under the Mubarak era, and led Egypt's Copts into ghettoisation.
Some Muslims, meanwhile, accuse Pope Shenouda of encouraging sectarian divisions.
In recent years, there have been tensions over reports that Christian women were allegedly hidden by the Coptic Church to stop them converting to Islam. The rumours were picked up by Islamist groups and prompted angry demonstrations.
The church denies holding the women.
However, many Christians say it was pope's wisdom that led to many potentially costly conflicts of recent years being brought to a peaceful end.
One example frequently given is his reaction to the deadly protests at state TV headquarters in October 2011, when soldiers killed and wounded scores of Christians protesting against attacks on churches.
"Our cathedral is packed with all of Egypt's Islamist leaders," Pope Shenouda told those attending Orthodox Christmas services in January, a few months after the protests.
"Everyone is united in favour of stability and in love of this country. Everyone - both Muslims and Copts - are working for the good of Egypt."