Government drive to boost Emirati employment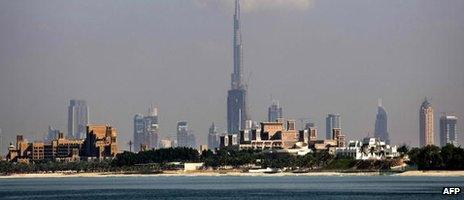 Pointing at the impressive skyline, 29-year-old Nasser al-Qafli smiles.
From his office on the 32nd floor of one of Dubai's newer skyscrapers, you can see the famous palm-shaped island and shimmering waters of the Gulf.
He is proud of his country and how, in a matter of decades, Dubai has turned from desert to megacity.
For five years he has worked at one of Dubai's telecoms companies, Du. Perhaps his career path mirrors that of Dubai's development - a steep but rewarding learning curve, with no doubt, a few errors made along the way.
Much of Dubai's development would have been impossible without foreign labour.
From construction workers to managers, engineers and shopkeepers, foreigners account for more than four out of five people who live and work in the United Arab Emirates.
According to the Insead business school, Emiratis make up between 60% and 70% of the public sector but less than 5% of employees in the private sector.
And Nasser thinks he knows why.
"The government enables a better environment for work," Nasser says. "Maybe the private sector isn't putting enough effort to attract and to have local people work with them."
And that is a sentiment echoed by the government.
"Emiratisation" initiatives - schemes to ensure locals can play a more prominent part in the workforce - have been around for a decade. But in the past year, attentions have turned to ensuring young people are provided with more support in their job search.
Last June, Abu Dhabi's government instructed various departments to find 6,000 jobs for locals in a matter of a few months.
In some cases, there were reports that expatriate workers were let go to make space for them. This, according to some experts is a short-term solution to a long-term problem.
"The whole educational system - the values, the traditional values which are transmitted through school, should probably put more emphasis on the notion of achievement, of hard work, of labour, of earning what you get," says Prof Stephan Schubert of Insead's Abu Dhabi campus.
"I think to some extent the wealth of this country that's based on oil which has enabled the growth and building the nation is also probably an obstacle because money doesn't always seem to be a problem - which can then easily distort expectations of young school leavers."
The UAE Careers fair in Dubai is an important date in the diary for many young Emiratis.
Around the stands, young men in their crisp white dishdashes and women in their long black abayas, all clutch CVs.
They leave with more paperwork than they arrived with - mainly marketing material from companies keen to increase the number of Emiratis in their workforce.
But there are few international businesses at the fair. Most of the exhibitors are government departments, government-linked companies or local, family-run businesses.
Recruitment consultants at the fair say expectations of young graduate Emiratis are high. A starting salary in a government department is about $7,000 a month but many private businesses are not prepared - or cannot afford - to pay that.
And the pressure is on for people to work for less, says Issa al-Mulla, executive director of National Workforce Development who has created a blacklist of people who refuse to take several jobs.
"Their names will be frozen for six months. After six months, when we call them, they'll say yes, now we are ready," says Mr Mulla. "Sometimes you need to use the stick or the carrot. Which will come first?"
Back at the telecoms company, Nasser has a different view.
"I would advise my colleagues, brothers and sisters to lower their expectations, be more patient, focus on your education and acquire skills and build good relations with your colleagues - even the foreign ones," he says.
"In time, you'll prove yourself and you'll acquire the recognition you're looking for. When recognition comes, it comes with a pay cheque."
But, it seems, expectations will need adjusting on both sides.
There is still a way to go before the government and the private sector will see eye-to-eye on how best to get more locals into work.