Huge security operation in Baghdad for Arab summit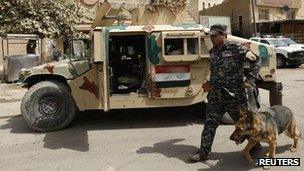 A huge security operation has begun in the Iraqi capital Baghdad, days before an Arab League summit.
Airspace around the city has been closed until Thursday and more than 100,000 security forces personnel have been deployed.
The meeting will mainly focus on the crisis in Syria, but will also be seen as a test for the Iraq government following the violence of recent years.
There have been several bombings across Iraq since US troops left in December.
More than 50 people were killed in a series of co-ordinated attacks on Tuesday, the deadliest of which struck the cities of Karbala and Kirkuk.
The BBC's Wyre Davies in Baghdad says the security for this week's Arab League summit, the first such meeting to be held there since Saddam Hussein's forces invaded Kuwait in 1990, is extraordinarily tight.
Heavily armed security teams are stopping and searching most vehicles in the city centre, leading to complaints from locals that their lives are being made impossible.
For Iraqi Prime Minister Nouri Maliki the summit is an opportunity to show how the country is progressing since US troops left last year, our correspondent says.
Between $400m and $500m have been spent refurbishing facilities, according to official estimates.
The focus of the main meeting itself is likely to be Syria and what further pressure Arab leaders can put on the government of Bashar al-Assad, who has not been invited to attend.
But, our correspondent says, the threat of violence is constant and there are fears that insurgents could seek to cause maximum disruption by targeting the summit itself.
National security official Safa Hussein told the AFP news agency that the Islamic State of Iraq, an umbrella group that includes al-Qaeda in Iraq, was planning an attack, but added: "We think security will go well."