Can Arab League bridge its divisions?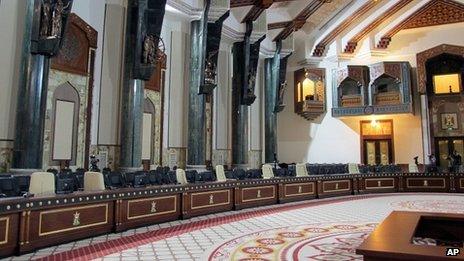 The Arab League is at a crucial juncture. As it prepares to convene in Baghdad for the first time since the Gulf War, it is fraught with divisions.
Last year, several members enthusiastically waged war on one of their own, Libya.
Today, it is Syria in the firing line. Saudi arms are probably reaching rebels, and the emir of Qatar has proposed sending troops.
Is the League a new force in regional affairs? Not as much as you might think from the posturing in Doha and Riyadh.
For a start, Libya and Syria are special cases. Libya was deeply estranged from its Arab neighbours. Col Muammar Gaddafi had tried to assassinate King Abdullah of Saudi Arabia, and had set his sights on becoming King of Kings of Africa.
Syria is led by members of the Alawite sect, a syncretic strand of Islam at odds with the Sunni Islam dominant in most of the Arab world.
It is also allied with Shia Iran, perceived as a major subversive threat to the Gulf Arab status quo - now, more than ever, thanks to its ambiguous nuclear programme.
Second, the League's decisions have been driven by a curious duo: the tiny but wildly wealthy state of Qatar (with a native population smaller than that of Derby) and the regional superpower of Saudi Arabia, keen to pull Syria away from Iran's orbit.
Qatar and Saudi Arabia have their own tensions, including border clashes in the 1990s, and these could yet re-emerge.
Qatar has always kept a more balanced policy towards Iran, and did not send any of its troops to Bahrain alongside those from Saudi Arabia.
The League is also fractured in other important ways. Algeria and Lebanon both oppose tough policies on their respective neighbours, Libya and Syria.
Third, the League's efficacy may depend on its leadership.
Qatar held the League's rotating presidency last year. Ironically, this was because Col Gaddafi, who should have taken over, wanted to delay the summit.
The mantle has now passed to Iraq's Shia-led government, closer to Iran and more unwilling to pressure Mr Assad. Prime Minister Nouri Maliki had even allowed Iran to ship arms to Syria through its airspace.
At the same time, there are signs that Mr Maliki might be looking for a rapprochement with the Sunni Arab states, despite his own sectarian policies at home.
Iraq recently settled debts and reparations worth billions of dollars with Kuwait and Egypt, and signed a security agreement with Saudi Arabia.
Now, with Baghdad in the spotlight, Iraq is pulling out all the stops.
The New York Times has reported that the country has spent $600,000 (£375,000) on stationery and $1m on flowers for the Arab League summit.
But for Iraq to truly bring itself back into the Arab fold, Mr Maliki will have to change his authoritarian and divisive course, stop arresting and vilifying his Sunni political opponents, and demonstrate his independence from Tehran.
Socio-political fault lines
Fourth, the Arab League's newfound activism is not always synchronised with popular opinion within its member states.
A poll of Arab opinion taken last July showed that, in many countries a majority of citizens felt that the imposition of a no-fly zone in Libya had worsened US-Arab relations, despite this being the result of their own governments' policies.
In Egypt, 56% of respondents held this view. Only Saudi and Lebanese citizens were keen on Nato's action.
Another survey from last October, two months after the campaign had concluded successfully, found that 46% of respondents considered international intervention in Libya "the wrong thing to do", as against just 35% in favour.
There might be similar scepticism if, say, Turkey intervened in Syria or Israel launched air strikes on Iran.
Even autocratic Arab governments will have to walk a fine line between advancing their geopolitical interests - curbing Iranian influence and limiting Iranian nuclear ambitions - and managing domestic sentiment.
Finally, the Arab League's members are still sitting on hugely dangerous socio-political fault lines.
Saudi Arabia needs an ever-increasing oil price to ensure it can meet its fiscal commitments; its oil-rich, Shia-dominated Eastern Province is restive; Bahrain has refused to undertake real political reform; and Syrian instability is already spilling over into Lebanon and Iraq.
This year could see new, destabilising shocks.
Riven with disagreement, dominated by the interests and prejudices of its most powerful states, and struggling to fashion coherent policies on the most important issues, the Arab League faces an uncertain and difficult future.
Related Internet Links
The BBC is not responsible for the content of external sites.