Iraq demands Qatar hand over Vice-President Hashemi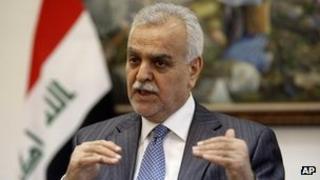 Iraq has demanded Qatar hand over its fugitive Vice-President Tariq al-Hashemi after he began what the emirate described as an "official visit".
Iraqi Deputy Prime Minister Hussein al-Shahristani said Qatar hosting a wanted person was an "unacceptable act" and that it should "return him to Iraq".
Mr Hashemi had been holed up in Iraqi Kurdistan since December, when he was accused of financing death squads.
He has denied the charges and insisted he has constitutional immunity.
"There has not been a judicial decision against me from any court, and the demand does not respect Article 93 of the constitution, which provides me with immunity," he told the AFP news agency on Monday.
Bodyguards
At an earlier news conference in Baghdad, Mr Shahristani said the Kurdistan Regional Government had committed a "clear challenge to law and justice" by allowing the vice-president to leave Iraq on Sunday.
"The state of Qatar receiving a wanted person is an unacceptable act and Qatar should back off from this stance, and return him to Iraq," he said.
Mr Hashemi met the Emir of Qatar, Sheikh Hamad bin Khalifa Al Thani, on Sunday to discuss "relations between the two brotherly countries and the latest developments in the region", Qatar's state news agency said.
He would also hold talks with the Prime Minister, Sheikh Hamad bin Jassem bin Jabr Al Thani, before visiting several other unnamed countries, it added.
Iraqi Prime Minister Nouri Maliki told reporters on Sunday: "They must know that the accused is wanted by a country which is a member of the Arab League... so he is not supposed to be received as a vice-president, which is a violation of the nature of the international relations."
The decision by Mr Maliki, a Shia, to issue an arrest warrant in December for Iraq's most senior Sunni Arab politician on terrorism charges brought the country's national unity government to the brink of collapse and sparked fears of increased sectarian unrest.
Mr Hashemi was accused of financing a personal death squad to target police, judges and officials during the height of the insurgency.
Confessions from three men identified as Mr Hashemi's bodyguards were shown on TV. They said that under the direction of the vice-president's aides, they had bombed convoys carrying Shia officials. One man said Mr Hashemi had given him an envelope with $3,000 (£1,874) after one attack.
In February, Iraq's Supreme Judiciary Council - a panel of nine judges, drawn from Iraq's main ethnic and religious factions - said Mr Hashimi's bodyguards had carried out 150 attacks between 2005 and 2011.
The judiciary has refused to move the case out of Baghdad; Mr Hashemi has said he would be willing to face trial in Kurdistan.