Qatar rejects Iraq demands to arrest VP Hashemi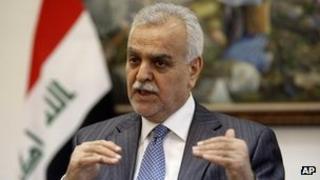 Qatar has refused to hand over the fugitive Iraqi Vice-President Tariq al-Hashemi, who faces terrorism charges.
Iraq demanded the return of Mr Hashemi after he arrived in the Gulf emirate on Sunday in what Qatari officials described as an "official visit".
The government in Doha said such a move would go against diplomatic norms.
Mr Hashemi, Iraq's most senior Sunni Arab politician, took refuge in Iraqi Kurdistan in December. He has denied financing sectarian death squads.
Qatar's State Minister for Foreign Affairs Khaled al-Attiyah told reporters that he could not be extradited to Iraq because there was no court judgement against Mr Hashemi, and he still held the post of vice-president.
Iraq's Deputy Prime Minister Hussein al-Shahristani said on Monday that hosting a wanted person was an "unacceptable act" and he should be returned.
The decision by Iraqi Prime Minister Nouri Maliki, a Shia, to issue an arrest warrant in December for Mr Hashemi brought the country's national unity government close to collapse, and sparked fears that sectarian unrest would increase.
Mr Hashemi was accused of financing a personal death squad to target police, judges and officials during the height of the insurgency.
Correspondents say the exchanges are likely to put more strain on relations between the Shia-dominated Iraqi government and Sunni Gulf Arab states like Qatar.
They are already under pressure due to Iraq's ambiguous stand on Syria and links to Iran, they say.
Mr Hashemi met the Emir of Qatar, Sheikh Hamad bin Khalifa Al Thani, on Sunday to discuss "relations between the two brotherly countries and the latest developments in the region", Qatar's state news agency said.