ICC prosecutor rejects Palestinian recognition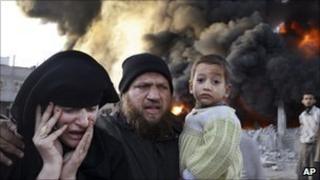 The prosecutor of the International Criminal Court (ICC) has rejected a request by the Palestinian Authority to recognise the court's jurisdiction.
The decision blocks a move to have the war crimes tribunal based at The Hague investigate the 2008-2009 Gaza war.
The prosecutor said it was up to "relevant bodies" at the UN or ICC member countries to determine whether Palestine qualified as a "state".
Only then could it sign the court's founding treaty, the Rome Statute.
An Israeli foreign ministry spokesman said it welcomed Friday's decision, and noted that it did not recognise the ICC's jurisdiction.
'Observer'
In January 2009, the Palestinian Authority's justice ministerlodged a declaration with the ICC unilaterally recognising its jurisdictionfor "acts committed on the territory of Palestine since 1 July 2002".
The ICC's chief prosecutor, Luis Moreno-Ocampo, said then that it would take some time to decide whether the PA was legally entitled to do so.
On Tuesday, the Office of the Prosecutor announced it could not act on the Palestinian declaration because Article 12 of the Rome Statute established that only a "state" could confer jurisdiction on the court and deposit an instrument of accession with the UN secretary general.
"In instances where it is controversial or unclear whether an applicant constitutes a 'state', it is the practice of the secretary general to follow or seek the General Assembly's directives on the matter,"the office said.
"This is reflected in General Assembly resolutions, which provide indications of whether an applicant is a 'state'."
Although Palestine has been recognised as a state in bilateral relations by more than 130 governments and certain international organisations, including UN bodies, the current status granted by the General Assembly to the Palestine Liberation Organisation (PLO) is that of "observer", and not "non-member state".
Amnesty International said the decision by the ICC prosecutor meant Palestinian and Israeli victims of crimes allegedly committed during the Gaza war seemed likely to be denied justice.
"This dangerous decision opens the ICC to accusations of political bias and is inconsistent with the independence of the ICC. It also breaches the Rome Statute which clearly states that such matters should be considered by the institution's judges," said Marek Marczynski, head of the human rights group's International Justice campaign.
In September, the Palestinians submitted an application for admission to the UN as a member state, but the Security Council has not yet made a recommendation. The US has said it would veto any vote on the matter.
The Palestinians have long sought to establish an independent, sovereign state in the West Bank, including East Jerusalem, and the Gaza Strip. However, two decades of on-and-off peace talks have failed.
Israel has said that UN admission would bring no change on the ground, and further remove the possibility for a lasting peace agreement.