Gaddafi son 'attacked in custody' in Libya, ICC lawyers say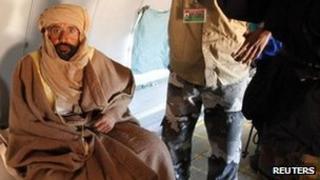 Defence counsel for Saif al-Islam Gaddafi at the International Criminal Court have alleged that he is being mistreated in custody in Libya.
In a statement, the lawyers said he was being kept in near-total isolation by a militia and had been beaten.
They also said that prosecutors had originally been told he would be tried for minor crimes involving a camel licence and fish farm irregularities.
The Libyan government and ICC are in dispute over who will try Mr Gaddafi.
Libya's governing National Transitional Council insists that he should be tried in the country, but the ICC says the Libyans are obliged to co-operate with the war crimes court at The Hague and should hand him over.
'Legal black hole'
The statement from Saif al-Islam's defence counsel said that both they and the defendant had been informed earlier that there was not enough evidence to pursue him for "serious crimes".
It alleges that the Libyan authorities "performed a dramatic volte face" when faced with a deadline for surrendering Mr Gaddafi to the ICC and said they wanted to investigate him for war crimes.
The ICC said Col Gaddafi's most prominent son was being kept in a "legal black hole" and "deprived of his rights".
For its part, the Libyan government says a special court is being built to try Saif al-Islam and it is fitting that he should be tried on Libyan soil.