Yemen unrest: Deadly attack on southern army base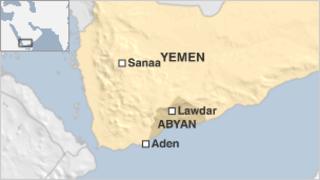 Nearly 60 people have been killed in an attack by an al-Qaeda-linked group on an army outpost in southern Yemen.
Members of Ansar al-Sharia launched the raid near Lawdar, a town in Abyan province about 120km (75 miles) north-west of the port city of Aden, at dawn.
Military officials said 40 militants, at least 14 soldiers and six pro-government tribesmen were killed.
Reports said fighting continued into the evening in several areas outside the town.
Some tribes in Abyan have formed groups known as "committees" to combat the advance by al-Qaeda and ally themselves with government troops.
Reports suggest they were doing most of the fighting later on Monday after the poorly-equipped armed forces withdrew.
Islamist militants moved into Abyan last year. Troops have suffered major losses trying to push them out.
Last month, a series of suicide attacks and armed assaults by Ansar al-Sharia left more than 100 people dead, most of them soldiers.
Civilian fighters
The army outpost outside Lawdar, home to the 111th Armoured Brigade, came under fire from Ansar al-Sharia fighters at dawn on Monday.
Soldiers inside returned fire with small arms and artillery, and the fighting continued for about three hours before the militants were forced to retreat, one Lawdar resident said.
A leader of Lawder's civilian committee, Mohammed Aydroos, told Agence France-Press he was wounded with a bullet to the shoulder, but vowed to continue the battle.
"The goal of al-Qaeda is to take over of our city, but our goal is keep them out," Aydroos said. "We burnt three of their cars and killed many of their fighters."
Military and tribal sources said the dead soldiers included a colonel. Several other soldiers were also wounded.
Elsewhere on Monday, at least three militants were also killed later when government forces bombed a checkpoint in the town of Jaar, near the provincial capital Zinjibar, which is under their control. One report said it was an air strike.
Ansar al-Sharia, or Partisans of Islamic law, was founded by al-Qaeda in the Arabian Peninsula (AQAP) in response to the growing youth movement in Yemen, which has marginalised Salafi-jihadists who advocate the violent overthrow of the government.
In November, protesters forced President Ali Abdullah Saleh to hand over power to his deputy, Abdrabbuh Mansour Hadi, as part of a deal brokered by the Gulf Co-operation Council (GCC).
Mr Hadi was elected president in February and immediately said one of his most important tasks was the "continuation of war against al-Qaeda as a religious and national duty".