Message of hope as Iraqi Christians mark Easter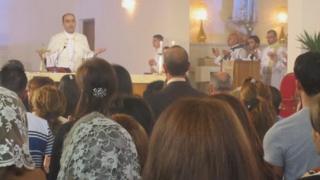 St Joseph's Chaldean Church in central Baghdad is surrounded by army checkpoints, and concrete barriers block cars from approaching the entrance.
At nine o'clock in the morning, before the day's heat set in, hundreds of worshippers slowly filtered in through multiple security checks to celebrate Easter Sunday.
"It's like entering a military camp, not a church," said Sanaa Nimr, a 58-year-old pharmacist who has lived all her life in the Iraqi capital.
"It's our ninth Easter since 2003," she added, reflecting back on the years that saw Iraq's descent into chaos, and the exodus of hundreds of thousands of Christians.
Of all the attacks on Christians since the US-led invasion, one stands out.
On 31 October 2010 gunmen stormed into Our Lady of Salvation Church in Baghdad and took dozens of hostages. More than 52 people died after security forces attempted to free the hostages, and some of the attackers blew themselves up.
Mrs Nimr said that whenever she went to church, she felt a "threat that something drastic will happen".
The attack left a psychological scar on the community.
"Every time we tell ourselves that things have become stable, and we move forward, something happens to stop us," said Father Saad Sirop Hanna, who led this year's Easter Mass at St Joseph's.
Intolerance
Still, there is a feeling that things are relatively better now than they have been in past years.
Yonadem Kanna, a Christian MP, said that after the US military pulled out of Iraqi cities in 2009, militants who had targeted Christians lost an important tool of mobilisation.
"They used to say they were fighting the occupiers."
He said the environment had steadily improved throughout last year, leading up to the full withdrawal of US troops.
In addition to violent attacks, Christians also complain of intolerance.
Mr Kanna said conservative Muslim values had seeped into the social fabric of society.
Alcohol shop owners and women who did not conform to Islamic dress codes had suffered intimidation, he added.
Mrs Nimr said some Christian schoolchildren had been instructed by teachers to recite verses from the Koran.
Hope and resurrection
During Easter Mass, Father Hanna drew parallels between the pain of Christ on the Cross and the suffering of Iraq's Christian community. After the pain, he said, there would be hope and resurrection.
But he is also a self-described realist, and he worries that Iraq could well be empty of Christians in the near future.
"So many people are still leaving, going to Jordan, to Lebanon to Turkey... and to Europe and America," he said.
Father Hanna had more than 1,200 families in his parish before the invasion, but the number has gone down to about 300 in only nine years. "This is the reality," he said.
Many of the problems Christians face in Iraq are the same problems all Iraqis face.
In addition to churches, bombs have ripped through markets, mosques, schools, police stations and government buildings, and people from all communities have been severely affected.
And almost everywhere in the country, Iraqis complain of poor services, unemployment, instability, and corruption.
Opportunity seems to play a decisive role in whether Iraqis, Christian or not, decide to stay or to go.
Mrs Nimr said she knew so many people trying their best to leave, but that she was staying.
"I still have my pharmacy, my husband is working. We contribute to the country, so we're not thinking at the time of leaving."