Saudi Arabia denies activist on hunger strike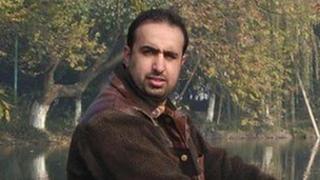 The authorities in Saudi Arabia have denied that a prominent human rights campaigner, who has been detained for a year, is on hunger strike.
The Saudi Association for Civil and Political Rights (ACPRA) said Mohammed al-Bajadi had refused food for a month and that his health was deteriorating.
Mr Bajadi had stopped drinking water on Saturday and fainted, it added.
But interior ministry spokesman Mansour al-Turki said Mr Bajadi had not been on hunger strike and was "in good health".
Mr Bajadi was arrested by domestic intelligence agents in Qassim province on 21 March 2011, after a small group of Saudis demonstrated in the capital, Riyadh.
They called for the release of thousands of people detained without charge or trial on suspicion of involvement in "militant activity".
Mr Bajadi was later charged with instigating demonstrations, membership of an unlicensed association, supporting the pro-democracy protests in neighbouring Bahrain, and possession of prohibited books.
He was a founding member of ACPRA, which the government had refused to license, while the books in question came from the 2011 international book fair in Riyadh, fellow activists told Human Rights Watch.
Judges have prohibited Mr Bajadi's lawyers from attending his trial at the Specialised Criminal Court, a state security tribunal for terrorism cases.
'Force fed'
On the weekend, ACPRA published a letter from Mr Bajadi which was smuggled out of his prison by someone who visited another inmate.
"I inform you that I am still continuing with my hunger strike," he wrote.
"On Tuesday 20 March I was taken to the prison hospital for a check-up and force fed in the presence of five soldiers and the ward officer."
He added: "I have lost around 10kg (22lb) and my blood sugar level, according to them, has dropped to a dangerous level."
Activists tried unsuccessfully to visit Mr Bajadi in prison on 2 April.
"The interior ministry... carries full responsibility over the deteriorating health condition of the prominent rights activist and member of the association, Mohammed bin Saleh al-Bajadi," ACPRA said in a statement.
Mr Bajadi "stopped drinking water early Saturday... fainting four times in a row, which proves that his life is in danger and his death inevitable."
But on Tuesday evening, the interior ministry rejected the claim.
"Mohammed al-Bajadi did not go on hunger strike and he is in good health, consuming food on a regular basis and in the company of other inmates," Mr Turki told the Reuters news agency.