Bahrain Grand Prix sparks web anger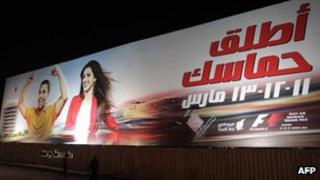 Social media users in the Arab world are urging a boycott of the Bahrain Formula 1 race - due to be held on 22 April - in anger at the ongoing crackdown on protesters in the Gulf island.
Some of the anger has been directed at Britain, with a Facebook page posting a picture on its wall calling for a sit-in in front of the British embassy in support of the "Revolution" on Saturday.
The Arabic page, The Youth Coalition of the 14 February Revolution, has around 50,000 "likes".
Posts on the wall set the tone: "Our leaders are in danger, so let them stop Formula 1." Another slogan in Arabic read: "In rejection of the Formula 1 race taking place in occupied Bahrain."
Another user, also writing in Arabic, posted: "This is what is needed, sit-ins in sensitive places and not in the villages… thank you all."
Teargas masks
Some tweets in Arabic and English, directed at an international audience, were aimed at shaming the organizers and people intending to attend the motoring event.
For example, Arabic tweeter MohammedJafer, with nearly 3,000 followers, wrote that the "FIA and the twelve [racing] teams will leave Bahrain with their heads hanging low, chased out by shame, if the race takes place in these conditions."
Demagh MAK, a tweeter from Egypt with some 14,000 followers, urged Formula 1 fans not to attend.
"When you buy a ticket for Formula 1 Grand Prix in Bahrain you support the killer king authority. Stop Formula 1 in Bahrain," he said in an English tweet.
Another English-language user sought to mock Bahrain's King Hamad. A fake Twitter account set up in name of the king read: "I am King Hamad and the Formula 1 circuit in Bahrain is the site of car races, religious and political persecutions and torture."
And Amira al-Hussaini, who has 26,000 followers, continued the tongue-in-cheek theme: "With F1 around the corner, those of you coming to Bahrain please bring your teargas masks. Bullet proof vests too just in case," she tweeted in English.
Yates under fire
Meanwhile, former Metropolitan Police Assistant Commissioner John Yates got short shrift for suggesting that the race should take place and saying that he felt safer in Bahrain than in London.
Mr Yates is currently working on a short-term contract advising the Bahraini authorities on police reform.
A remark by British-born Bahraini writer Dr Ala'a Shehabi, who has around 8,000 followers, was indicative of the web sentiment. Her ironic English-language tweet said: "When John Yates says that Bahrain is safer than London, most Bahrainis in this video would totally agree."
There followed a link to a YouTube video purportedly showing members of the security forces beating up protesters.
BBC Monitoring selects and translates news from radio, television, press, news agencies and the internet from 150 countries in more than 70 languages. It is based in Caversham, UK, and has several bureaux abroad.