Grand Prix decision masks Bahrain's political unrest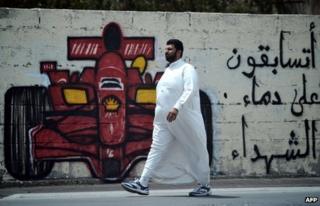 So Bahrain's Formula 1 Grand Prix is going ahead after all.
By Sunday night, the racing cars will start being loaded up onto cargo planes in Shanghai and heading west across the Indian Ocean.
By Tuesday, the whole F1 entourage will have arrived in the tiny, troubled Gulf state, ahead of the Grand Prix on 22 April at the Bahrain International Circuit (BIC).
The decision to override concerns about safety and ethics and go ahead is a victory for the Bahraini government, the business community, expatriates and many others.
It is also a setback for anti-government activists and human rights organisations, who fear the whole event will be used by the ruling family to pretend everything is back to normal in Bahrain. It is not.
'Not much has changed'
Amnesty International has just brought out a new report saying: "The human rights crisis in Bahrain is not over."
"Despite the authorities' claims to the contrary, state violence against those who oppose the Al Khalifa family rule continues, and in practice, not much has changed in the country since the brutal crackdown on anti-government protesters in February and March 2011."
The organisation goes on to say: "Holding the Grand Prix in Bahrain in 2012 risks being interpreted by the government of Bahrain as symbolising a return to business as usual."
Social media websites, which do not always reflect real opinion on the ground, have been alive with discussion on the issue.
Most commentators condemn the decision to go ahead. Yet China, where the Grand Prix is currently being held, has also been sharply criticised by Amnesty for "jailing and persecuting people for peacefully expressing their views".
Amnesty said "the use of illegal forms of detention expanded [in China], including... detention in 'black' jails, 'brainwashing' centres and psychiatric institutions".
Some argue that sport should be above politics; others say it is immoral to hold the event in any either country with a human rights record like that.
Bernie Ecclestone, the Formula 1 boss, who has been one of the strongest proponents of holding a Grand Prix in Bahrain, and whose picture is already being set fire to in certain Shia districts, says: "There is no difference between holding it [in China] or in Bahrain."
Not quite true, say some, pointing out that in China there is no sizeable or visible protest movement demanding that the Grand Prix is called off.
Entrenched positions
It is impossible to assess what proportion of Bahrainis want F1 and what proportion do not.
It is not just the sizeable Sunni community that do want it - plenty of Shia view it as a badly-needed boost to the flagging economy and a chance to heal some of the sectarian divisions that are tearing this once prosperous island apart.
There are also moderate, intelligent political figures in the Shia-led opposition who recognise that if the Grand Prix were to be called off then the Sunni community would be so enraged it would be harder than ever to bridge the gap between government and opposition.
Already there are extreme, entrenched positions on both sides of the divide, where people have a vested interest in perpetuating the clashes - the violent, anarchic and destructive wing among the young Shia rioters, who have no interest in dialogue; and the Sunni hardliners, who want no concessions made to the Shia and who believe that brute force and repression is the only answer to their legitimate demands for a more equitable share of power, jobs and housing.