Saudi diplomat kidnapped in Yemen 'is held by al-Qaeda'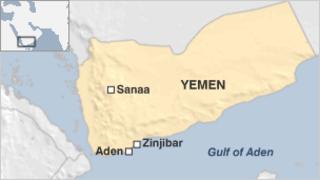 The Saudi authorities say a diplomat kidnapped in Yemen last month is being held by al-Qaeda.
Abdullah al-Khalidi, a deputy consul in Aden, was abducted outside his home in the southern port city on 28 March.
An al-Qaeda leader had called the Saudi embassy to demand militants held in Saudi prisons be freed in exchange for his release, a Saudi spokesman said.
He said the kidnappers' leader was Mishaal Mohammed Rashid al-Shudukhi, sought by the Saudis since 2009.
Aden borders Yemen's Abyan province, where government forces have been struggling to contain militant groups linked to al-Qaeda in the Arabian Peninsula (AQAP).
In the past year these groups have consolidated their control over several towns and villages in the region, including Abyan's capital, Zinjibar.