Kofi Annan: Envoy says UN Syria vote is 'pivotal moment'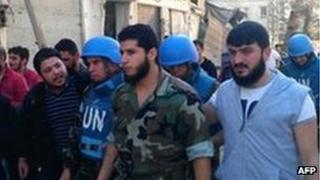 Peace envoy Kofi Annan says the UN vote to deploy up to 300 observers in Syria is a "pivotal moment for the stabilisation of the country".
In a statement issued in Geneva, the UN and Arab League envoy also called on Syrian government forces to withdraw their tanks and weapons from cities.
A small UN team is currently in Syria to monitor a fragile ceasefire.
But on Sunday at least two people were killed in Douma, a suburb of the capital, Damascus, activists said.
Douma has previously been the scene of violent clashes between security forces and opposition fighters. The UK-based Syrian Observatory for Human Rights said two civilians were killed during a government attack.
Activists also said three civilians were shot dead by security forces in the restive central city of Homs on Sunday, despite the presence of two UN observers there. The UN has not commented on the claim.
Saturday's vote at the UN Security council came as monitors were allowed to visit Homs for the first time.
The visit came amid a lull in fighting, which rebels said was because tanks had been temporarily hidden while observers were in the city.
The resolution gave the boosted observer force a mandate to monitor the situation for up to three months, but left it to UN Secretary General Ban Ki-moon to decide how and when they will be deployed.
In his statement, Mr Annan called on both opposition and government forces to put down their weapons in order to consolidate the truce.
"The government in particular must desist from the use of heavy weapons and, as it has committed, withdraw such weapons and armed units from population centres and implement fully its commitments under the six-point plan," he said.
Although overall violence has fallen since the truce was agreed by the UN and Syria more than a week ago, many violations have been reported by activists and journalists on the ground.
The Damascus authorities say they are fighting armed terrorist groups and that the ceasefire allows them to respond to attacks.
The UN estimates that government forces have killed more than 9,000 people in the uprising. Syria says foreign-backed militants have killed more than 2,600 soldiers and police.