Bahrain opposition activists' appeal postponed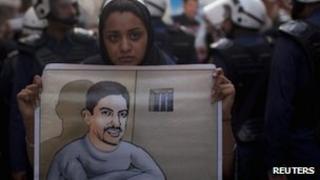 Bahrain's highest appeals court has postponed for a week the final verdict in the case of a hunger striker and 20 other democracy activists convicted of plotting to overthrow the kingdom's rulers.
The court, which was to to issue its decision on Monday, said it would now deliver it on 30 April.
The activists - 14 in Bahrain and seven in absentia - were sentenced as part of the crackdown on Bahrain's Shia-led protests, which began in February 2011.
Protesters are seeking to force the ruling Sunni monarchy to give up key powers.
About 35 people died that February and March during unrest and a crackdown on demonstrations calling for greater democracy demanding an end to discrimination.
Human rights groups estimate that at least 25 people have died since, many as a result of what has been described as the excessive use of tear gas.
Bahraini officials insist that the hunger striker is in good health. Mr Khawaja was sentenced to life in prison in June for plotting against the state.
On Sunday, a representative from Bahrain's public prosecutor said Mr Khawaja's doctors assured him that the human rights and political activist "is in good and stable health and is getting all necessary medical care".
But after 11 weeks without food, his family says his condition is bad. Mr Khawaja's wife, Khadija al-Moussawi, told the BBC that he stopped drinking water on Friday.
She said that he had been warned by doctors that the consequences of not taking water could be death and had asked that it be put on his chart that if he slipped into a coma he did not want to be fed intravenously.
The family has not been allowed to see Mr Khawaja since 15 April. Their contact is limited to a single daily phone call.
The postponement of the verdict on the activists' appeal has come amid escalating tensions after a week of near-daily anti-government protests that coincided with Sunday's controversial Formula One Grand Prix race.
Marketing the race under the slogan "uniF1ed" and "one nation, one celebration" failed to prevent clashes in which one man died.
Rights groups and western governments have repeated called for the release of Bahrain's political prisoners, but many remain in jail.