Bomb blast at south Lebanon restaurant injures five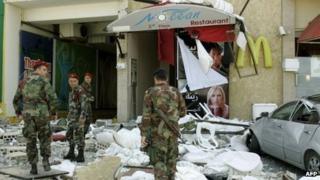 At least five people have been injured by a bomb blast at a restaurant in the southern Lebanese coastal town of Tyre, security sources say.
The explosion occurred shortly after midnight in a lift at Nocean, located on the third floor of a commercial building in the town's east.
Nocean serves alcohol and is reportedly renowned locally for its dance parties.
Several clubs, shops and restaurants selling alcohol have been bombed in the majority-Muslim town in recent months.
Most Islamic schools of law declare that the consumption of alcohol or anything that contains alcohol is haram, or forbidden.
Pictures of the aftermath of Sunday night's explosion showed chunks of concrete and shards of glass strewn around Nocean's entrance.
"I was on my way to the restaurant in my car, talking on the phone. I heard an explosion and then something fell on the car," the owner, Zahi Zaydan, told Reuters news agency on Tuesday.
A nightclub and an off-licence were targets of bomb attacks in November, and another restaurant selling alcohol was struck in December.