Palestinian leader backs Arabs' visits to Jerusalem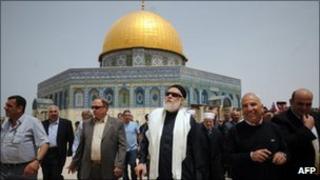 The Palestinian leader, Mahmoud Abbas, has spoken in support of Arab officials visiting East Jerusalem.
His comments follow criticism of an Egyptian cleric and Jordanian royals who recently went to al-Aqsa mosque, the third holiest site in Islam.
Mr Abbas said Islamic scholars were wrong to argue that access was forbidden because it was controlled by Israel.
He was talking to young Arabs in the West Bank town of Ramallah.
Since the leading Islamic cleric, Mufti Ali Gomaa, visited al-Aqsa mosque last week, there have been calls for his resignation back home in Egypt. The Islamist-led parliament is demanding that he apologise.
In Jordan, Islamist politicians have also criticised two princes and government officials who went to the holy sites in Jerusalem recently.
Although the Jordanians remain custodians of al-Aqsa, Israeli consent and coordination is required to reach the mosque.
The argument put forward by many prominent Islamic thinkers, visiting the mosque is therefore tantamount to accepting Israel's occupation of Palestinian territory, and normalising relations.
Speaking to a group of young Arabs in the West Bank town of Ramallah on Wednesday, President Abbas took issue with the idea.
He said that scholars had lost touch with what was "right and just" and repeated his call for an end to the Arab boycott of East Jerusalem.
"When you visit, you're not endorsing Israel, you're coming to the home of the Palestinian people which happens to be under occupation," Mr Abbas' aide told the BBC.
Tense times
The Palestinians want East Jerusalem as the capital of a future state. It was captured by Israel from Jordan in 1967. Israel subsequently annexed the land and declared all of the city its undivided capital. The move is not recognised by the international community.
Recent VIP visits to Jerusalem have taken place after Mr Abbas encouraged Arab leaders to come at a meeting in Qatar in February.
His position has been denounced by some Palestinian groups. Hamas, which governs Gaza, strongly discourages Arab officials from travelling to Jerusalem.
Its spokesman, Sami Abu Zuhri, said no official should visit "unless he is coming to liberate the holy land from the Zionist occupation".
Jerusalem's Muslim community says the high-profile worshippers at the al-Aqsa mosque have come at a time when tensions with radical Jewish settlers are on the rise at the site.
Jews revere the compound that contains the al-Aqsa mosque, the Temple Mount, as the biblical site of their temple, destroyed by Roman troops in the 1st century. They pray at the Western Wall, its remaining foundations.
Muslims, who captured Jerusalem from the Christians in the 7th Century, belive the Dome of the Rock marks the spot where the Prophet Mohammad ascended to heaven. They call the compound the Noble Sanctuary.