Iraq violence: Eight killed in Baquba cafe bomb attacks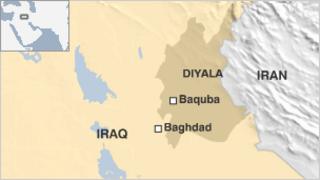 At least eight people have been killed in two bomb explosions in Iraq's province of Diyala, officials say.
About 15 people were injured in the blasts at a coffee shop in a mainly Sunni village near the town of Baquba, some 65km (40 miles) north-east of the capital Baghdad.
The first blast was set off by a suicide car bomber, while the second bomb was planted inside the cafe.
No group has so far said it carried out the attack.
Diyala has long been a volatile province of Iraq, inhabited by Sunni and Shia Muslims and Kurds.
Iraq has seen a decline in levels of violence in recent years but the country still suffers bomb attacks on a daily basis.
Last week, a series of blasts struck a number of Iraqi cities, killing at least 35 people and injuring 100 more.