Iraqi Vice-President Tariq al-Hashemi charged with murder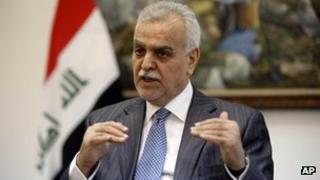 Iraq's fugitive Vice-President Tariq al-Hashemi has been charged with several murders, including those of six judges, court officials in Baghdad say.
Mr Hashemi is not expected to attend his trial, which opens on Thursday. He has taken refuge in the Kurdish north.
Mr Hashemi, who was the most senior Sunni figure in Shia-dominated Iraq, fled in December 2011 after allegations that he was implicated in death squads.
He denies the claims and has accused PM Nouri Maliki of fuelling sectarianism.
On Monday Iraq's Supreme Judiciary Council said Mr Hashemi and some of his bodyguards had been accused of a series of killings.
"There are many crimes that Hashemi and his guards are accused of and there were confessions obtained, including on the assassinations of six judges, mostly from Baghdad," said Abdul-Sattar al-Birqdar, a spokesman for the council.
Torture claim
Speaking to the BBC during a trip to Turkey earlier this month, Mr Hashemi accused Mr Maliki of wanting to "regenerate the sectarian strife".
He said the country was at a crossroads, and that urgent action had to be taken now to prevent it breaking up along sectarian and ethnic lines.
Regarding the criminal case against him, he said Iraq's security services had tortured his bodyguards to obtain false confessions to back up claims that he had ordered political bombings and assassinations.
He said one of his bodyguards had been tortured to death while in detention.
Mr Hashemi fled Baghdad after a warrant for his arrest was issued on 19 December, accusing him of orchestrating bomb attacks and killing Shia officials. He sought protection in Iraq's semi-autonomous Kurdish region.
His departure highlighted growing tensions within Iraq's unity government, which was formed in December after months of negotiations following inconclusive elections in March.
The increase of divisions along Sunni-Shia lines has led to fears of a return to the sectarian clashes which killed thousands in 2006-7. The absence of US troops who previously maintained security has increased these concerns.
Former Iraqi leader Saddam Hussein was a Sunni, and many Sunnis believe they are being penalised by Shias, who have grown in influence since the US invasion.
Sunnis have accused Mr Maliki of taking an authoritarian approach to government.