Syrian students 'killed at Aleppo protest'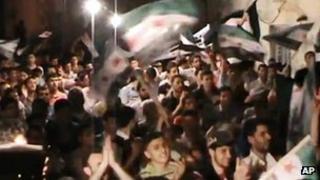 At least four people have been killed as security forces and militiamen raided student accommodation in Syria's second city, Aleppo, activists say.
Live ammunition was reportedly used to disperse an anti-government protest outside dormitories adjacent to Aleppo University's campus late on Wednesday.
As many as 200 students are thought to have been arrested during the raid.
The university has announced it is suspending all classes for the rest of the current academic year.
Aleppo has so far not experienced the violence and large-scale protests seen in other cities during the uprising.
But there have been almost daily demonstrations by its students.
'Tougher tactics'
One student in Aleppo, Thaer al-Ahmed, said there was panic and chaos as security forces personnel and members of the Shabiha militia fired live rounds and tear gas to disperse a protest by about 1,500 people outside their dormitories on Wednesday night.
"Some students ran to their rooms to take cover but they were followed to their rooms, beaten up and arrested," he told the Associated Press. "Others suffered cuts and broken bones as they tried to flee."
Mr Ahmed said raids and intermittent gunfire had continued in the area for about five hours until Thursday morning.
The Local Co-ordination Committees (LCC), an activist network, said troops had later warned anyone still inside the student accommodation to leave. Entrances to faculty buildings were also said to have been closed.
The LCC said five students had been killed, while the UK-based Syrian Observatory for Human Rights said four people had died.
A protest against the violence is now said to have begun nearby.
Activists said security forces had tended to use only tear gas and batons to disperse student protests since the uprising against President Bashar al-Assad began in March 2011, but that in the past few days they had adopted tougher tactics.
This had forced students to hold demonstrations at night, they added.
The overnight crackdown in Aleppo was launched despite the Syrian government saying it was abiding by the terms of the peace plan negotiated by the UN and Arab League envoy, Kofi Annan, which includes a ceasefire and a commitment to allow peaceful protests.