Why Netanyahu is calling an early Israeli election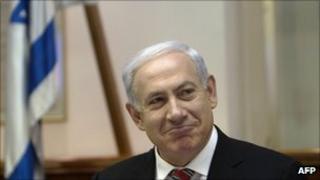 Benjamin Netanyahu has almost as many enemies as he has friends and his often abrasive style of leadership is not to everyone's taste.
However, Israel's prime minister must be credited with leading one of the country's most stable governments of recent times.
Israelis are notoriously fickle about their political leaders and the electoral system has evolved to create unstable, unnatural political coalitions rather than robust, single-party rule.
Ministerial resignations are not uncommon, nor is it rare to see fragile political agreements collapse after a couple of years.
But not since the 2009 general election, when Mr Netanyahu - as leader of Likud, the second largest party in the 120-seat parliament or Knesset - put together a right-wing coalition which, up until this week, looked strong, focused and relatively popular.
So why, all of a sudden, is Israel preparing for a new election - an election that does not have to be held for at least another year?
Fresh mandate
The most obvious explanation is that Mr Netanyahu, riding high in the opinion polls, has decided that now is as good a time as any to go to the country, secure a new mandate, and govern for another three or four years.
After all, Israel's economy is faring pretty well by international standards and the prime minister's hawkish line over the (almost non-existent) peace process with the Palestinians is doing him little harm.
External politics are always significant in Israel and, while Mr Netanyahu would never confirm such a supposition, he also wants the clout of a new, improved mandate to confront the man who is, arguably, his most important adversary, Barack Obama.
While the United States remains Israel's key strategic ally, their leaders do not see eye-to-eye over the future direction of a two-state solution between Israel and the Palestinians.
There is much speculation, and some concern in right-wing Israeli circles, that if President Obama is also re-elected later this year, he may approach the Israel-Palestinian issue with a renewed sense of vigour and determination, having failed to make an impact during his first term.
That prospect worries some of those close to Mr Netanyahu, who believe it will damage the close working relationship with the US.
It is imperative from their standing that an Israeli prime minister justifying the expansion of Jewish settlements on occupied Palestinian territory (considered illegal under international law) or rejecting the notion of a Palestinian state based on the 1967 ceasefire lines, has the comfort of parliamentary support.
Forced hand?
Israeli politics are nothing if not complicated.
According to recent polls, Benjamin Netanyahu's right-wing Likud party still would not win anything close to a majority in an election.
Discussions over the shape and look of a new coalition would not be easy, or totally under Mr Netanyahu's control.
There is some weight to the alternative argument that the prime minister has had his hand forced by his junior coalition partner and foreign minister, Avigdor Lieberman, the leader of the nationalist Yisrael Beiteinu party.
No-one from Yisrael Beiteinu would confirm it, but there are reports from several sources that Mr Lieberman has agreed to a plea bargain with the attorney general over his own long-standing corruption allegations.
The reported deal would require Mr Lieberman to stand down from his current ministerial role, but could allow him to stand in subsequent elections.
The foreign minister also has ideological differences with Mr Netanyahu and smaller religious parties in the coalition regarding the exemption of ultra-Orthodox Jews and other minority groups from national service.
A vote on a proposal to change the law, which Lieberman has been angling for, would split the coalition and might have brought about an early election if Mr Netanyahu had not called one.
New-look Knesset
Opinion polls are not very accurate or trustworthy in Israel but Benjamin Netanyahu is, by some stretch, the most popular politician and would expect to win an election.
His challenges would then be building another right-wing or centre-right coalition while at the same time keeping control of those members of his Likud party who are even more hawkish and further to the right.
Left-wing parties in the Knesset talk up their own hopes of an electoral recovery, largely because of a collapse in support for the centrist Kadima party and its new leader, Shaul Mofaz.
The Labour party believes it can come back from a poor showing in 2009 and a new, leftist party, led by former journalist, Yair Lapid, is also expected to win several seats.
The main issues in any election will be as ever, security, including now, the threat from Iran, and relations with the Palestinians.
But, after the huge, prolonged street protests against the high cost of living last year, the economy and the financial burden felt by many Israeli families will also be an important factor.
Israeli politics are never boring and are usually followed closely in international circles.
But given the more tumultuous recent developments elsewhere in the region and Israel's relative stability, these elections are unlikely to garner huge amounts of interest, certainly outside the country.