Israel's Supreme Court hears hunger strikers' appeal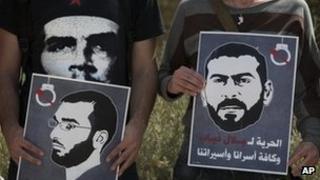 Israel's Supreme Court has deferred a decision on an appeal against their imprisonment by two Palestinians who have been on hunger strike for 64 days.
Bilal Diab and Thaer Halahla have been placed in "administrative detention", a controversial practice whereby people can be held without charge or trial.
Both men are suspected of security offences by the Israeli authorities.
But the Israeli group Physicians for Human Rights has said they are in very poor health and in danger of dying.
"Both have stopped co-operating in any way with the Israeli Prison Service doctors. They are not taking vitamins or salts on the IV [intravenous] drip," PHR spokeswoman Amani Dayif told the BBC on Wednesday.
"Bilal is only drinking water, less than a litre per day. He's in danger of cardiac arrest. There are signs that Thaer might have an infection in his lung. Both should be transferred to a proper hospital," she warned.
'Their choice'
Mr Diab, 27, has been held under administrative detention since August 2011, while Mr Halahla, who is 34, has been held since June 2010.
When the two men appeared before Israel's Supreme Court in Jerusalem on Thursday to appeal for their release they were both in wheelchairs.
Mr Diab is reported to have collapsed and was rushed to hospital.
Mr Halahla told the three-judge panel: "Administrative detention is a slow death."
"I want to live my life with dignity. I have a wife, and a daughter I never met. I am on hunger strike because there is no other way," he added.
However, the court deferred a ruling on the two prisoners' petitions.
Their lawyer, Jawad Boulos, said he expected a decision next week.
"We are fighting a losing battle. As long as there is occupation, there will be detainees in Israeli prisons," he told the Reuters news agency.
More than 1,500 Palestinian prisoners have joined the two men's hunger strike since the middle of April, refusing food over the policy of detention without charge and seeking to improve their general prison conditions.
Many say they are kept in solitary confinement and are refused family visits.
Israel says that many of 4,500 Palestinian prisoners in its jails are suspected of being members of militant Palestinian groups.
The Israeli Prison Service (IPS) said it was trying to get Mr Diab and Mr Halahla to eat, and that they were receiving proper medical care.
"We are trying to talk to them to get them to eat. In the end, it's their choice," spokeswoman Sivan Weizman told Reuters news agency.
The practice of administrative detention has been condemned by the Palestinian Authority, which says it will take the matter to the United Nations.
The BBC's Wyre Davies in Jerusalem says there have also been daily protests by the prisoners' supporters outside the jails where they are being held.
There are clearly concerns that should the health of the hunger strikers dramatically worsen the protests could turn violent, our correspondent adds.
Two weeks ago, the Israeli authorities released Khader Adnan, reportedly a member of the militant group Islamic Jihad, after he agreed to end his 66-day hunger strike in return for a his administrative detention not being renewed.