Brother of Rabin killer released from Israeli prison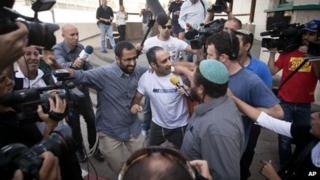 The brother of the man who killed Israeli Prime Minister Yitzhak Rabin has been freed after more than 16 years in jail for complicity in the murder.
Left-wing activists chanted "disgrace" as Hagai Amir left Ayalon prison, south of Tel Aviv. But he told Israel Radio: "I am proud of what I did."
Yigal Amir, a right-wing extremist, shot Rabin in 1995 after a peace rally in support of the Oslo Accords.
Rabin's daughter, Dalia, said Hagai Amir should never have been released.
"People like that belong behind bars forever," she told the Israeli news website, Ynet.
Yigal Amir, who has also never expressed any remorse for the killing, is serving a life sentence at Rimonim Prison, near the town of Ramla.
'Deserves to be freed'
Police were deployed outside Ayalon prison as Hagai Amir was released because of the presence of his family, as well as left- and right-wing activists.
Dror Morag, secretary general of Meretz party, was among the protesters.
"We are here to prevent the next Yigal Amir. We must remember that even today, this man does not regret his actions, nor apologise for them," he told the Haaretz newspaper.
"He has the support of rabbis and other people who believe in him. He has still not paid his debt to society. He didn't only kill a prime minister, he killed an entire democracy."
But right-wing activist Noam Federman said Hagai Amir "deserves to be freed, he deserves to be congratulated".
"Hagai Amir did not do anything. The State of Israel could not believe that Yigal Amir acted alone, and sought to find an underground organisation," he said.
Israeli media said Amir would spend the weekend with relatives in the West Bank settlement of Shavei Shomron before moving into his parents' house in Herzliya, just north of Tel Aviv, where there are expected to be further protests.
In 1996, Amir was convicted of conspiring to murder after a court found he had helped his brother work out how to kill Rabin, and that he had conducted surveillance of the prime minister's home.
His sentence was extended by another six months in 2006 after he was convicted of threatening the life of former Prime Minister Ariel Sharon while preparations were being made for the 2004 withdrawal of settlers and soldiers from Gaza.
Rabin was assassinated on 4 November 1995 after addressing a large rally in Tel Aviv by supporters of his efforts towards a two-state solution.
The Amir brothers said they wanted to stop Mr Rabin's government giving the Palestinians land they believed God had given to Israel.