Iran holds parliamentary election run-offs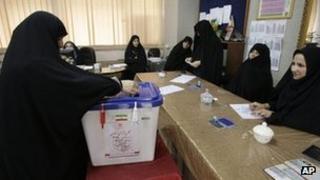 Iranians are voting in a second round of parliamentary elections which are expected to see opponents of President Mahmoud Ahmadinejad make further gains.
State TV said 130 candidates were competing in run-off votes for 65 seats in the 290-seat Majlis, including 25 of the 30 seats in the capital, Tehran.
Conservative opponents of the president won a majority in March's first round.
The parliament lacks executive power but will play a part in choosing his successor before next year's election.
In the past year, allies of Mr Ahmadinejad have been removed from key government posts, weakening his influence.
This followed a failed attempt by the president in April 2011 to assert his authority against Iran's Supreme Leader, Ayatollah Ali Khamenei.
Speaking to reporters after casting his vote on Friday, Ayatollah Khamenei called for a high turnout. Officially, it was 64% in March.
"My advice is that people take the run-off as seriously as the first round," he said. "The higher the number of votes for lawmakers... the better they can work."
All of the candidates had to be pre-approved by Iran's Guardian Council, which means the contests are effectively between different conservative factions - supporters of the Supreme Leader and Mr Ahmadinejad.
The leaders of the opposition Green Movement have been under house arrest for more than a year and were barred from taking part in the elections.
Other reformist politicians also asked their supporters to stay at home.