Syria peace plan 'on track' despite violence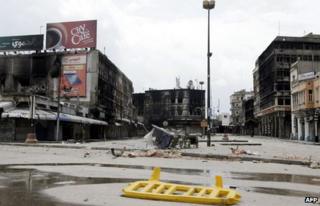 The peace plan for Syria negotiated by UN-Arab League envoy Kofi Annan is "on track", despite reports of ceasefire violations, his spokesman says.
Ahmed Fawzi told a news conference in Geneva that a crisis which had been going on for over a year was "not going to be resolved in a day or a week".
But he acknowledged there were "no big signs of compliance on the ground" with the ceasefire which began on 12 April.
Activists said at least 23 people were killed by government troops on Friday.
The Local Co-ordination Committees (LCC), an activist network, put the nationwide death toll as high as 37, including 10 people in the Damascus suburbs of Tadamun and Kafr Sousa, and seven in Idlib province.
A couple and their child were also killed by pro-government Shabiha militiamen in the northern city of Aleppo, it reported.
The violence came despite the deployment of 40 unarmed observers from the United Nations Supervision Mission in Syria (UNSMIS), which is tasked with verifying the implementation of Mr Annan's initiative.
Up to 300 observers are expected to be in place by the end of May.
'Horrified' by violence
On Friday, Mr Fawzi insisted the observers had helped to reduce some of the worst violence in Syria simply by their presence, and that the international community should continue to back the peace initiative.
"The Annan plan is on track and a crisis that has been going on for over a year is not going to be resolved in a day or a week," he said.
"I agree... that there are no big signs of compliance on the ground. There are small signs of compliance," he added.
"Some heavy weapons have been withdrawn, some heavy weapons remain. Some violence has receded, some violence remains. I'm not saying that is satisfactory."
Mr Fawzi said there were also signs "behind the scenes" because the former UN secretary general's mediation efforts were being "conducted below the radar".
"However... even on days [when] we feel there is satisfactory progress, it is in inches, not in feet or miles. In those days as well we are horrified by the extent of violence that we see on the ground," he added.
On Tuesday, the US accused Syrian President Bashar al-Assad of making "no effort" to implement Mr Annan's peace plan, and said a new international approach might be needed if it appeared to be failing.
Activists said 23 people were killed by security forces on Thursday, including four students in a raid on their dormitories at Aleppo University.
The UN says at least 9,000 people have died since pro-democracy protests began in March 2011. In February, Syria's government put the death toll at 3,838 - 2,493 civilians and 1,345 security forces personnel.