Al-Qaeda underwear bomber 'was undercover agent'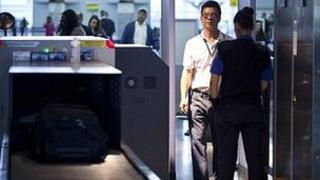 A would-be suicide attacker in a foiled "underwear bomb" plot was an undercover agent, US officials say.
The person dispatched by Yemen-based al-Qaeda to attack a US-bound plane had been recruited to infiltrate the group by Saudi Arabia.
In an apparent intelligence coup, the agent left Yemen with the device and delivered it to the CIA.
Meanwhile, the Pentagon says it is sending military trainers back to Yemen to help counter al-Qaeda militants.
Reports on Thursday suggested the agent may have been a British national, possibly of Middle Eastern origin, but UK officials have declined to comment.
'Terrorists keep trying'
US intelligence learned last month about the plot by militants with al-Qaeda in the Arabian Peninsula (AQAP) in Yemen, according to the Associated Press news agency.
The plan was to attack a plane with a more sophisticated version of a bomb hidden in a passenger's underwear, similar to one used in a failed 2009 attempt.
On Wednesday, FBI director Robert Mueller told a congressional hearing that AQAP posed the most serious terrorist threat to the US.
He also called for Congress to reauthorise counter-terrorism tools enacted in 2008, set to expire at year-end.
No changes in US airport security are expected, House Intelligence Committee Chairman Mike Rogers said.
"There is a concern that overseas security doesn't match ours," Mr Rogers said. "That's an ongoing challenge."
Officials told the New York Times that the would-be bomber had been recruited by Saudi Arabia's intelligence agency and sent to Yemen where he infiltrated the militants' cell.
The BBC's Steve Kingstone in Washington says the undercover agent was reportedly given an ambitious task by Saudi intelligence - to convince AQAP that he wanted to blow up himself and a US-bound aircraft.
The agent was given the device which he then delivered to the CIA and Saudi officials.
The agent is now reportedly safe in Saudi Arabia and FBI analysts are studying the device.
The upgraded underwear bomb is described by officials as a "custom-fit" device, that would have been difficult to detect even with careful security checks.
It is said to have two forms of detonator, unlike a similar bomb, from the same Yemeni source, that failed to explode on Christmas Day 2009.
The main charge was a high-grade military explosive that "undoubtedly would have brought down an aircraft", an official told the New York Times.
Experts quoted in the US media say both bombs bear the hallmarks of AQAP master bomb-maker Ibrahim Hassan Tali al-Asiri.
His name has also been linked to a plot in October 2010 to bomb a Chicago-bound plane using a device disguised as a printer cartridge. That plan, which AQAP claimed as its own, was also foiled with the help of the Saudi authorities.
"The plot itself indicates that the terrorists keep trying... to devise more and more perverse and terrible ways to kill innocent people," US Secretary of State Hillary Clinton said during a visit to India.
Drone attack
The agent also provided intelligence that led the CIA to conduct a drone strike in Yemen on Sunday that killed AQAP leader Fahd al-Quso.
Quso was wanted in connection with the bombing of the American destroyer USS Cole in Yemen 12 years ago. The US was offering a $5m (£3.1m) reward for information leading to his capture or death.
US officials said Quso had been planning an attack similar to the failed 2009 attempt to blow up a passenger plane.
The device seized from Yemen shares some features with the bomb sewn into the underwear of would-be suicide bomber Umar Farouk Abdulmutallab during that attempt.
The Nigerian was arrested when his device failed to explode fully while on a plane bound for Detroit.
Meanwhile, Pentagon spokesman Capt John Kirby told reporters on Tuesday that the US had "begun to reintroduce small numbers of trainers into Yemen".
"We have been working with the government of Yemen and the Yemeni military for some time now to help them deal with the growing threat of al-Qaeda in Yemen," he added.
Capt Kirby would not say how many trainers were involved or where they were based.
Months of political upheaval in Yemen have left militants in control of large parts of the south of the country.
Washington's military training programme in Yemen was suspended in 2011 after then-President Ali Abdullah Saleh was badly injured in a rocket attack.