Nazi medical experiment victims laid to rest in Vienna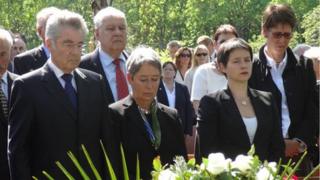 It was a sombre ceremony - that came many years too late.
The remains of the last known victims of Nazi medical experiments in Vienna, a group of more than 60 people, have finally been buried at a ceremony in the city's central cemetery.
An urn containing specimens and body parts was laid to rest in a small grave, flanked by wreaths of flowers. A string quartet played music by Beethoven and Webern.
The victims were mostly psychiatric patients and people with mental disabilities from Vienna's "Am Steinhof" hospital, those whom the Nazis regarded as "unworthy" of life.
The oldest was 86, the youngest just four years old. Most were from Vienna, a few from Hamburg in Germany.
For years the specimens were kept in hospitals in Vienna. They included five brains in glass jars.
'Terrible crimes'
Austrian President Heinz Fischer, who attended the ceremony, said their sufferings should never be forgotten.
"Human dignity must be respected in all circumstances. Human beings have to treat each other in a humane way. These terrible crimes in Austria between 1938 and 1945, are such unique crimes that we have to say never, never again."
"Am Steinhof," today known as the Otto-Wagner Hospital, was a centre for Nazi medical experiments.
Historians estimate that more than 7500 patients there lost their lives between 1938 and 1945.
Some were the victims of euthanasia programmes, others died through neglect, hunger, and deliberate infection with diseases.
Specimens from their brains and bodies had been used for medical research, not just during the Nazi era, but for many years after the war.
In 2002, the brains of hundreds of children, who were murdered at "Am Steinhof's" children's ward, "Am Spiegelgrund" were finally buried in Vienna.
They had been kept in glass jars at the hospital for decades.
Since then, the city has worked to trace other specimens.
These have now been interred next to the plot containing the brains of the children of Am Spiegelgrund, and members of the Austrian resistance who were executed by the Nazis.
The mayor of Vienna, Michael Haupl said "To remember and commemorate, that's what we can do for the victims - and to tackle our past."
The authorities hope that this burial will help bring to a close one of the darkest chapters in Vienna's history.