Egypt watches new TV approach to politics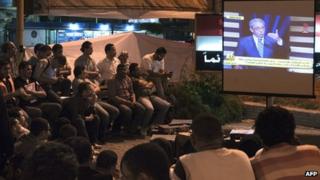 Thursday night is the beginning of the weekend in Egypt and it is normally a night to go out and have fun.
Instead many Egyptians opted to stay at home or head to coffee shops where they could watch this televised live political debate lasting about four hours excluding the long commercial breaks.
Newspapers had billed it as "unprecedented" for the Arab world and "the first confrontation between the two strongest presidential candidates".
Egypt's best-known talk-show presenters joined the pre-debate build-up, explaining that Amr Moussa and Abdul Moneim Aboul Fotouh were chosen out of the 13 candidates standing because they had led several opinion polls.
The format, which some viewers compared to a game show because of its dramatic music sequences and beeping countdowns, was designed to give each candidate a grilling.
"We studied the experiments with candidates' debates in other countries including those in the United States, Canada and France," said one host, Amr Khafagi. "Then we developed an Egyptian version".
Mutual challenges
The two men were asked 24 questions ranging from how to limit the future president's powers to ensure he did not turn into a dictator, to traditional subjects of education, employment and health.
However it was identity issues that Egypt has wrestled with since last year's uprising that dominated. The two men repeatedly challenged each other on Islamism and affiliation to the former government.
Amr Moussa attacked his rival's record as a long-time leading member of the Muslim Brotherhood.
In turn, Abdul Moneim Aboul Fotouh criticised the former foreign minister for his service to what he said was an oppressive and corrupt regime.
"Vote for me because I represent national unity and the 25 January spirit without which we cannot build the country," said Mr Aboul Fotouh. "Don't vote for the one who was against the revolution".
Amr Moussa urged Egyptians: "vote for me because I have been tested, I have experience. This proved to have been marked by honesty and devotion."
'Step of change'
What added to the spectacle was the opportunity to see two potential leaders subjected to close scrutiny and questioning.
"I didn't expect it to be that heated and for it to get my attention this way," said Hesham Gad who watched the special programme shown on Dream TV and ONTV, with friends.
"This is something very new for me as an Egyptian. This is another step of change in the country."
In the past, Egyptian ministers appeared only occasionally on the popular late-night talk shows and tended to be treated with kid gloves by presenters.
Rocky period
President Hosni Mubarak, who was ousted from power in last year's popular revolt, was rarely questioned by interviewers.
During his five presidential terms he only once stood in a multi-candidate election in 2005 and it was tainted by allegations of rigging.
This debate took place as Egyptians prepared to head to the polls on 23 May for two days of voting in what are being billed as their country's first free and fair presidential elections.
Overall, neither candidate dealt a decisive blow against the other.
"I'm still undecided. We still have 11 other candidates that weren't in the debate. I think we can say that five are really competitive," said Hamdi Qenawi, who was closely following the TV show.
"It's not about charisma," he added. "I'm looking for someone who will build the institutions of the country."
As well as Mr Moussa and Mr Aboul Fotouh, former Prime Minister Ahmed Shafiq is doing well, according to opinion polls.
The Muslim Brotherhood, which controls the biggest bloc in the new parliament, is officially represented by Mohammed Mursi.
This election should mark the end of a rocky period of democratic transition that has been led by the ruling military.
It has promised to hand over power to the elected president by the end of June.