Egyptian expatriates vote in presidential election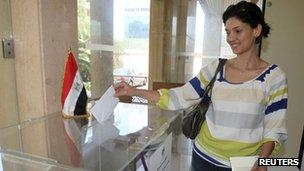 Egyptian expatriates have started voting in the first presidential elections since an uprising forced Hosni Mubarak to step down last year.
But electoral officials say fewer than 600,000 of the nearly 10 million Egyptians abroad have registered.
Many failed to do so because of difficulties in obtaining new identity cards, which are required to vote.
Voters in Egypt will go to the polls on 23 and 24 May. A run-off will be held in June if no-one wins 50% of the vote.
On Thursday, two of the front-runners took part in the first presidential election debate live on Egyptian TV.
Millions watched the head-to-head between Amr Moussa, the former head of the Arab League, and the moderate Islamist, Abdul Moneim Aboul Fotouh.
Each was asked a wide range of questions - from how their powers should be limited as president to ensure they did not turn into a dictator, to more traditional topics such as health and education.
Overall neither dealt a decisive blow against the other, says the BBC's Yolande Knell in Cairo.
But in a reflection of the political dynamic since last year's uprising, some of their sharpest attacks concerned issues of Islamism and links to Mr Mubarak, our correspondent adds.
Mr Moussa attacked the record of his rival as a former leading member of the Muslim Brotherhood, while Mr Aboul Fotouh accused the former foreign minister of being a remnant of an oppressive and corrupt regime.
"There is a rule that says the one who created the problem cannot solve it," Mr Aboul Fotouh said.
"The regime that fell, fell with Moussa outside of it," Mr Moussa replied. "I say, you too were silent. You used to defend the positions of the Muslim Brotherhood and not Egyptian interests."
The two are among 13 candidates. The other front-runners are Mohammed Mursi, the chairman of the Muslim Brotherhood's Freedom and Justice Party (FJP) and Ahmed Shafiq, a former air force chief who served as prime minister in the last days of Mr Mubarak's rule.