Turkish journalists released from Syria with Iran's help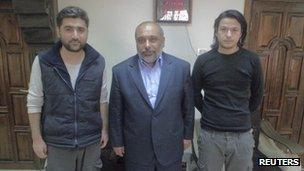 Two Turkish journalists who were held in Syria for two months are on their way home after being released following Iranian mediation.
Reporter Adem Ozkose and cameraman Hamit Coskun have arrived in the Iranian capital, Tehran.
They are said to be in good health.
They were reported to be missing at the end of March while they were working in northern Syria on a documentary on the Syrian government's crackdown on pro-democracy protests.
Turkish Foreign Minister Ahmet Davutoglu has said a Turkish plane will take the pair back to Turkey.
A former ally of Damascus, Ankara relied on Tehran - which backs Syria's President Bashar al-Assad - to serve as an intermediary in talks to release the Turkish journalists.